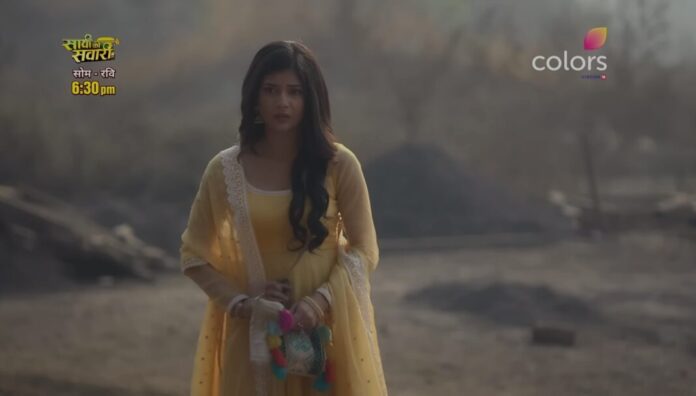 Saavi Ki Savaari Spoilers, Upcoming Story, Latest Gossip , Future Story, Latest News and Upcoming Twist on SerialGossip.in
Colors TV show Saavi Ki Savaari features Samridhi Shukla as Saavi and Farman Haider as Nityam in the lead roles. This is the story of the girl who drives auto to lead her family. Now, Dhruv is trying to kill Saavi so it will be interesting to watch that what going to happen in the future episodes.
Earlier its seen that, Thasvi told Saavi that she know Saavi is not that kind of person who break marriage for money. Saavi hided the truth from Thasvi too. Sonam called Dhruv and claimed that she has proof against him.
She asked him to come to saluja building of ujjain with 3 crores. She informed Shivam that tomorrow Dhruv is coming to ujjain. Shivam informed everything to Saavi. Saavi decided to accompany Shivam to meet Dhruv.
Dimpy saw message from Saavi's phone and learnt that Saavi and Raksham going to meet in saluja building. She informed the location address to contract killer. Uma devi told Vedika that they can't fulfill Saavi's demand. Vedika told her that they don't have any other choice. Uma called Nutan and told about Saavi's actions.
Nutan told her that she can't change Saavi's decision and disconnected the call. She told Brijesh that she followed Saavi's instructions but she don't know why Saavi is doing all this. Kailash heard everything.
Next day, Shivam reunited with Dalmias and he introduced Sonam as his wife and it turned out to be Sonam's dream. Saavi reached saluja building and went inside. Dhruv's goons caught her.
In the upcoming episode, Dhruv will try to kill Saavi. Saavi will tell him that she did not come to blackmail him.
Will Dhruv trust Saavi? Will Saavi die?
All these questions will be answered in the upcoming episodes.
To know what will happen next in your favourite show Saavi Ki Savaari, stay tuned to this space.