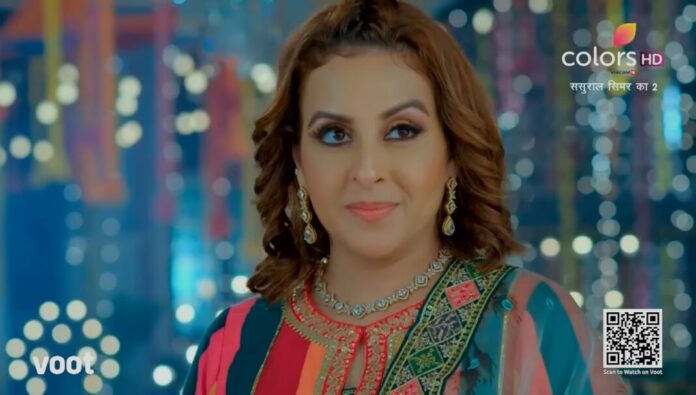 Sasural Simar Ka 2 Spoilers, Upcoming Story, Latest Gossip , Future Story, Latest News and Upcoming Twist on SerialGossip.in
Colours TV's popular Sasural Simar ka 2 show will show an interesting plot twist. Rudra will captivate the whole Oswaal family with her black magic for his own sake. Meanwhile, Simar brings back Reema again in the house. But Mayakshi and Chhaya again conspire to disown all the power of Simar.
In today's episode, Mayakshi asks her to leave the Reema's body, but Reema doesn't ready to leave this loving family and relationship getting after hundred years.
Chaya comes out of the body from Mayakshi and requests to Mayakshi to let her live as the wife of Vivaan with folded hands. Chaya repents that that she didn't obtain any love from Rudra as Vivaan.
Mayakshi agrees to do that but she asks some favours. She provokes that she will even manage Rudra but Chaya have to kill Simar and she washes her head with some fearful consequences.
Mayakshi announces to Chaya that if she wants to live, Simar has to be finished. Simar sees that Reema has been suffering from high fever. Taking a knife, Chaya tries to stab on the back of Simar. Suddenly Aarav comes and stops her.
Reema excuses that Rudra has come to harm Simar, so she took the knife and went to kill Rudra in terms of saving Simar. Aarav gifts Simar a locket of Matarani. Chitra comes in a dark forest to meet Mayakshi and she blames Mayakshi for destroying the future of her two sons.
Chitra mocks her, but Mayakshi puts the black magic on the car of Chitra. Mayakshi says it won't work without her permission. Meanwhile Riyansh won't find Chitra anywhere.
In the next episode, Simar and Sandhya confront Reema for her having food gigantically. Simar understands that Rudra didn't give her any food to for the days.
Sandhya apolizes for her rude behaviour. Simar uncovers many delicious scrumptious food, wonderful decoration add the surprise to Reema. Vivaan comes with a flower vase and gifts her. They both confess how much lucky they are.
They hug each other. Simar, Aarav, Vivaan Reema Kavya, Riyansh, Aditi and Gagan participate in group dance. Everyone looks exuberant and happy.
Chutra forgives Reema and accepts her for the sake of Vivaan's happiness. On the asking of Badima, Chitra says she wants to arrange a honeymoon for Vivaan and Reema.
Riyansh gets confused about the behavioral pattern of Chitra which is turned around in a opposite direction and he points out a new bangle in the wrist of Chitra. Chitra makes Reema up with some very beautiful dresses.
Chitra advices Reema to make Vivaan of her own within one night. Being excited to listen Simar, Reema tries to hug her, she gets jerk for the locket of matarani which is hanged in the neck Simar. Simar suddenly sees a reflection of Chaya in the mirror of her room. She gets totally thunderstrucked.
Why did Chitra accept Reema?
How Simar would save the Oswaal family from Mayakshi?

Keep following this space for more information about your favourite shows.