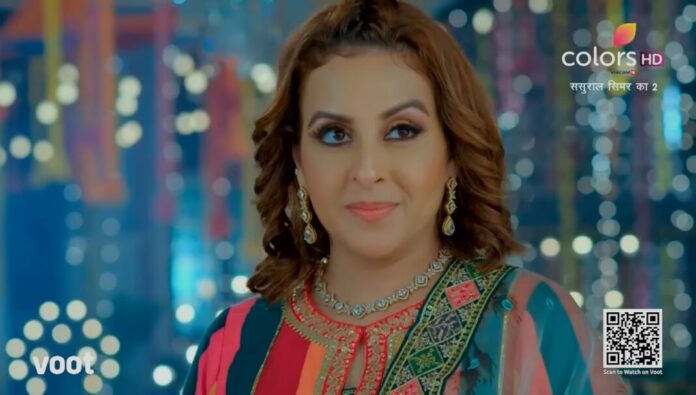 Sasural Simar Ka 2 Spoilers, Upcoming Story, Latest Gossip , Future Story, Latest News and Upcoming Twist on SerialGossip.in
Colours TV's popular Sasural Simar ka 2 show will show an interesting plot twist. Rudra will captivate the whole Oswaal family with her black magic for his own sake.
Meanwhile, Simar brings back Reema again in the house. But Mayakshi and Chhaya again conspire to disown all the power of Simar.
In today's episode, Simar and Sandhya confront Reema for her having food gigantically. Simar understands that Rudra didn't give her any food to for the days. Sandhya apolizes for her rude behaviour. Simar uncovers many delicious scrumptious food, wonderful decoration add the surprise to Reema.
Vivaan comes with a flower vase and gifts her. They both confess how much lucky they are. They hug each other. Simar, Aarav, Vivaan Reema Kavya, Riyansh, Aditi and Gagan participate in group dance. Everyone looks exuberant and happy.
Chutra forgives Reema and accepts her for the sake of Vivaan's happiness. On the asking of Badima, Chitra says she wants to arrange a honeymoon for Vivaan and Reema. Riyansh gets confused about the behavioral pattern of Chitra which is turned around in a opposite direction and he points out a new bangle in the wrist of Chitra.
Chitra makes Reema up with some very beautiful dresses. Chitra advices Reema to make Vivaan of her own within one night. Being excited to listen Simar, Reema tries to hug her, she gets jerk for the locket of matarani which is hanged in the neck Simar.
Simar suddenly sees a reflection of Chaya in the mirror of her room. She gets totally thunderstrucked.
In the next episode, She will drag Reema by her hand to confront her, but before that Simar will see that there is a weird shadow of Chaya in a water pot. Simar will be confirmed that she is Chaya. But she wouldn't be able to prove this. None would believe her.
Simar will ask to Kavya to bring the prasad of matarani. Instead of taking the prasad and ganga jal, Chaya wouldn't split herself from Reema's body. Badima will suggest her to take rest, whether Simar will pray to God to show the way of truth to her.
Later Chaya would realise that Simar is very strong lady to defeat.
Why did Chitra accept Reema? How Simar would save the Oswaal family from Mayakshi?

Keep following this space for more information about your favourite shows.