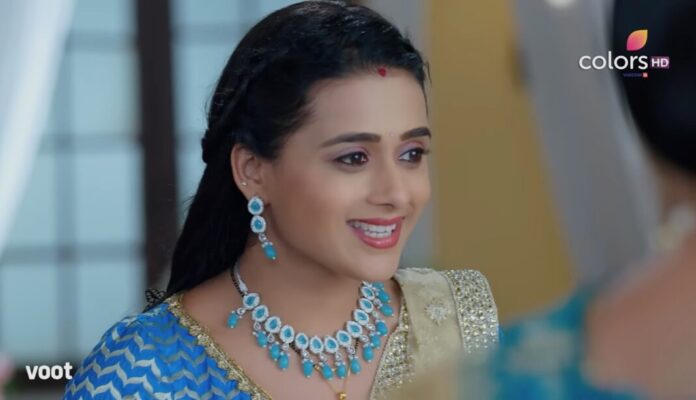 Sasural Simar ka 2 Spoilers, Upcoming Story, Latest Gossip , Future Story, Latest News and Upcoming Twist on SerialGossip.in
Colours TV's popular show Simar Sasural Ka 2will witness an interesting turn soon. Reema wanted to carry on her dream while Chitra opposed her. She forcefully tries to stop for her modelling. She insisted Reema to take a baby. Reema left house for photo shooting. Meanwhile Simar starts a music school for unprivileged students.
In Today's episode Some children came to Simar to learn music from her. Everyone was excited and insisted Simar to open a school.
Garima also took the responsibility to arrange a school for Simar. Reema got upset because of the obstacle of her dream. On asking of Simar Reema said she wants to pursue her dream. She did not to take the help of anyone. Meanwhile Gagan always try to take care about his sister and wife.
Badima promised everyone that she will help out about Reema's dream. Chitra declared that Riyansh is coming home. Reema left the house for the photoshoot in a studio. But Chitra got angry and Vivaan went to bring Reema.
In the upcoming episode, Vivaan will reach there when Reema will shooting. The Photographer will praise Reema for her wonderful performance. Vivaan will try to convince her but Reema will deny to understand Vivaan's condition. They will both misunderstand each other and Vivaan will leave the room with broken heart.
Chitra will confront Reema and both will start argue with each other. Vivaan will protest and make explain his sandwich condition. Simar will start the school while Aarav and Badima will help her to decorate the room.
Simar will start her class with an explanation of the word music. Suddenly she will hear a cry for help. Everyone will see that Riyansh comes with injured face.
What happened with Riyansh?
Will Reema continue to persue her dream?
Keep following this space for more information about your favourite shows.