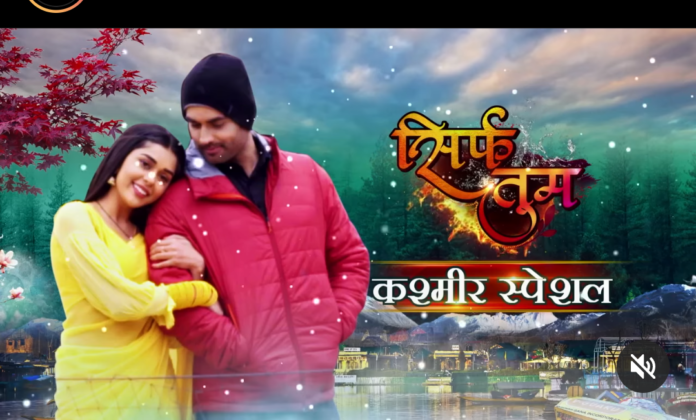 Sirf Tum 10th June 2022 Written Update on SerialGossip.in
The episode starts with Suhani firing. Everyone in the police station gets shocked. The bullet goes up and Suhani says she is not afraid to shoot herself but she is waiting for Ranveer to arrive. She won't go anywhere until he comes back. The inspector tells her to not take the law related decisions. Rakesh and Sudha arrive at the police station. They support Suhani saying she is doing the right thing as noone can lock her up in jail without court hearing. An lady constable takes the gun from Suhani and forcibly puts her in the police van. Suhani's parents try to stop them from doing so.
Ranveer convinces the judge saying Suhani is a brilliant medical student and she broke the law to save Vikrant only. He gives him some proof saying she deserves a fair chance to prove her innocence else an innocent should not be punished. He can grant her bail application atleast until the investigation is done.
Later Suhani is about to leave but Ranveer stops the policemen. He says he got bail for Suhani and he gives the papers to the inspector. He adds that he will file case against the inspector and the people who are involved in this plan against Suhani. Without court trial how can they put her behind bars. The inspector says he got orders from his senior. Ranveer tells him to prepare release letter for Suhani.
Ranveer says he is proud of Suhani the why she handled the situation fearlessly. She says she just showed the courage which he gave her. Rakesh thanks Ranveer and the latter says he needs Suhani so nothing can happen to her. Suhani decides to go to Oberoi Mansion first to apologise to Mamta.
Ranveer says but they won't understand her but will talk rubbish about her. He can't tolerate that. Suhani gives him swear saying he won't stop her from going there as whatever it is she pushed the wrong injection, she wants to see Vikrant once. Ranveer agrees. John says Vikrant got discharged.
Vikrant feels better and Mamta performs his aarti for his recovery. Roshni says but when Suhani is in their lives nothing can be right. Ranveer comes in with Suhani and says negative people should stay away from patients, this makes the recovery process slow. Roshni asks how dare you bring Suhani here despite knowing she tried to kill Vikrant.
Mamta gets furious and Dadu shuts Roshni up saying they should give chance to Suhani to tell what she feels. He tells Suhani and Rakesh to sit. But Mamta stops them. Mamta goes to Suhani and the latter says she is really sorry for what has happened to Vikrant. She didn't do anything knowingly. Mamta slaps Suhani angrily.
Mamta tells Suhani that she won't get convinced by her fake tears but she knows her true colors now. Suhani separated her from Ranveer, she tried to kill her husband. She curses Suhani saying the latter will never become a doctor. No matter how much she studies she won't be able to fulfil her dream. Her hands will tremble while treating a patient. She will recall Vikrant and won't be able to treat any patient. Rakesh tells Mamta that she has no right to curse Suhani. Suhani came here to apologise even after being innocent but Mamta doesn't know how to behave. Mamta shouts at Rakesh and Rakesh tells Suhani to leave the place.
Ranveer stops Suhani and tells Mamta that she cursed a person who saved her husband. The court judge is better than her who atleast gave an opportunity to Suhani to prove her innocence. Mamta not only cursed Suhani today but cursed him too. Ranveer says he told Suhani that noone will understand her so they are wasting time here. He decides to leave and Mamta says why will he leave his mother for Suhani.
Ranveer says as she has many people at the mansion who can take care of her but Suhani is alone so he will be with her and won't come back to mansion until he proves her innocence. He leaves with Suhani and Mamta is left shocked to see that. Vikrant consoles her saying he will make sure Ranveer doesn't leave his family for Suhani. Its good that Mamta saw Suhani's wrong intentions.
Ranveer drives the car and there Vikrant's employees surround the car. They keep on protesting against Suhani and demands her punishment. They call her a fake doctor. Ansh observes them with Rishi and records the drama. Rakesh recognises the office employees and says why they are here. Ranveer says they got money to create this scene. They throw stones at the car windows and Ranveer tells Rakesh, Sudha and Suhani to bend down. He gets out of his car and stands on the car. He records their video saying it can be seen how they are breaking laws and even after Suhani got bail they are troubling her. This is not acceptable. Ansh smirks saying now Ranveer welcomed his own danger. Someone throws a stone at Ranveer and Suhani shouts his name.
Episode ends
Click to read