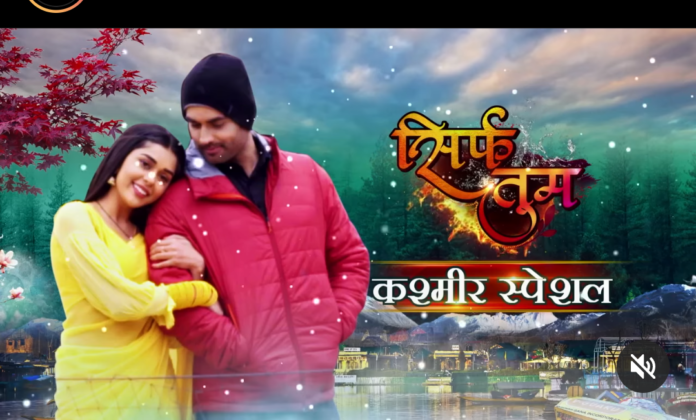 Sirf Tum 11th August 2022 Written Update on SerialGossip.in
The episode starts with Rakesh asking Suhani what would she decide. Whether she will refuse to fight against Ranveer or she will face him to save her career. Suhani realises her mistake and says she wont accept her defeat but she will fight for herself. She will make Ranveer lose and she will fight this battle alone and will win too. Rakesh says he will drop her to the hospital everyday but she says she won't even get scared for a moment else it will make her weak. Ranveer wakes Mamta up and makes her sit on bed. He asks her how is she? She says because of her back pain he works at night in the hospital and he takes care of her in daytime. He lacks proper rest..
Ranveer says he is absolutely fine and Samaira is also here to take care of her. Mamta says if Suhani was here, she would have handled everything properly. Ranveer diverts the topic and leaves the room. He thinks his hatred for Suhani will erase all her memories from this house. Suhani reaches hospital at night and Aditya Nisha come out. Aditya asks Suhani that he will be with her tonight in the hospital as he got to know Dr R.O misbehaved with her. Suhani says atleast Aditya should not doubt her potential. She can handle the situation without a man's help. She is independent and strong. Aditya says ofcourse he believes in her and she doesn't need to play the woman card. She tells him to go home as he needs rest.
Suhani meets Ranveer and the latter tells her to show basic etiquette that is to greet the senior doctor. He tells Mukesh to show how to greet him. Mukesh does that and Suhani says hello to Ranveer. She adds she also heard junior doctors deserve to be treated in good way as well. Ranveer asks for the patient's file and report from her but she doesn't have it. He gets the files and warns Suhani to not repeat the mistake. She should always keep the patient file and report with her. The patient has knee pain thus he can't stand up so he tell about his health issue to Ranveer. Ranveer asks him to stand on his leg until he comes back after completing his other work. He gives the responsibility to Suhani to check upon the patient whether he is standing or not. The patient feels pain in his knee and Suhani allows him to sit.
Ranveer comes back and asks Suhani why she allowed the patient to sit when he told her not to. From where she learned to disobey her senior doctor? Suhani says she was just showing compassion to her patient. He replies that the person is not her patient. Ranveer tells the patient to stand again. Later he explains to Suhani that the patient didn't follow regular exercises and didn't take the medication properly so giving pressure to his leg would help him walk normally. But Suhani didn't follow his instructions on the first day of her duty. He punishes her saying she won't be allowed to sit even during her break. She should not think emotionally. Suhani says she is ready and she doesn't find it wrong to have emotions and ethics both. She won't stop showing compassion to the patients. Ranveer says he will break her pride one day.
Suhani finds one injured boy and she shifts him to the emergency ward and treats his wound without waiting for Ranveer. Ranveer drinks alcohol and comes to treat the boy after getting informed by Mukesh. The parents thank Suhani for saving their son on time and Ranveer tells them to come after five days for check up. Suhani says even one second is vital for a serious patient and Ranveer must have idea about that. That's why she started the treatment without waiting.
Episode ends
Click to read: