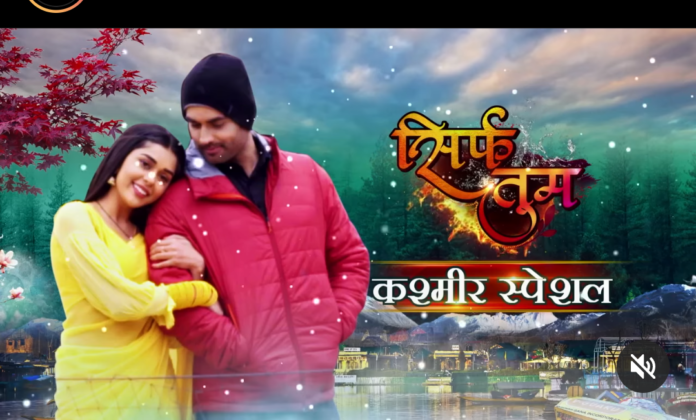 Sirf Tum 11th June 2022 Written Update on SerialGossip.in
The episode starts with Ranveer telling the employees that he is recording their video and who gave them the right to protest against Suhani when she got bail from the court already. Someone throws a stone at him but he bends down. He says someone is provoking them against Suhani and that person only trapped her in false case. So they should not get influenced by that person. He gets hurt in his head as someone throws stone at him again.
Suhani shouts Ranveer and realises Ranveer locked the car door. Ranveer says what they are doing he can do that too. He can choose violence and can hit them with his car but then how will they answer their family. When they will become his employees again will they be able to justify their wrong act in future? The employees get convinced and Suhani comes out of the car. Ansh gets irked seeing everything.
Rakesh thanks Ranveer taking stand for Suhani. Suhani goes to her room and breaks down to tears saying she can never become a doctor. Sudha asks Ranveer to go to Mamta as she needs him maybe, Ranveer says he knows his mother and she will forgive him after knowing the truth. Sudha notices blood on Ranveer's head and says they should call the doctor immediately. Ranveer says he is fine.
Suhani comes to him sees the injury. Ranveer says Suhani is the doctor then why to call a doctor from outside. He tells her to do the dressing and push injection to him. Suhani's hand trembles and she fails to do the dressing and can't inject the medicine recalling Mamta's curse.
Suhani leaves saying she is not capable enough to be a doctor, she can't treat a patient. Dadi says Mamta's curse caused this and Suhani is doubting her potential now. John and Raghu come with a card for Suhani. Ranveer says Suhani will receive the annual award for being the topper in college. Thats a great news. Ansh provokes Vikram saying Vikrant takes all the credits when Vikram is the one who put his efforts in expanding the business.
After Vikrant's retirement Vikram should handle the business, Roshni says Ansh is right and she will take the house responsibilities. Ansh calls him Chachu by mistake but Vikram says he didn't mind at all. Ansh adds Ranveer won't handle Vikrant's business so Vikram should take it over. Ansh thinks he will slowly snatch everything from Ranveer.
Suhani's family dances for to bring smile on Suhani's face, they try to boost her mood by getting ready like clowns. Suhani doesnt get happy but asks them what are they doing. Rakesh says he was always against Suhani's dream but she proved that she is really passionate. Sudha also says that it's not just Suhani's dream but her mother's dream too.
Ranveer shows the card to Suhani and says she will get a prestigious award in the college, so she should be happy. She says someone was about to die because of her and how can she be a great doctor. Ranveer takes Suhani to the lady's house whose child delivery was done by Suhani and him. That lady welcomes them and her husband gives credits to Suhani for his child's safe delivery. Baby girl's mother says she named her child as 'Suhani'. Suhani gets delighted hearing that.
Episode ends
Click to read