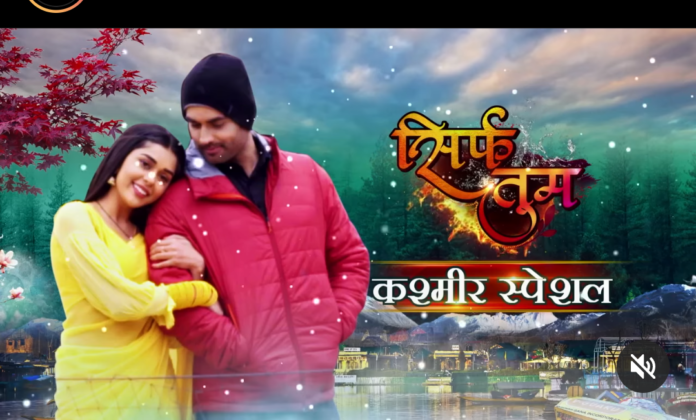 Sirf Tum 12th July 2022 Written Update On Serialgossip.in
The episode starts with Vikrant telling Mamta that she should have left the house much earlier. Now she will leave being a divorcee. Mamta cries hearing that and Ansh smirks. Ranveer gets furious at him and chokes him saying how dare he laughs after hurting Mamta. Suhani tries to stop Ranveer saying he will end up in jail but he pushes her away saying she lost the right to stop him. Suhani gets shocked. Ansh pushes back Ranveer and tries to run away but the latter chases him. Ansh tries to escape but Ranveer throws a vase at him.
Ansh falls down and Asha pleads Ranveer to not hurt Ansh. Ranveer takes a rod to beat him but Rakesh and Suhani both stop him. Suhani says he should atleast think about her and Mamta, if he gets arrested what will happen to them. Ranveer doesn't pay heed and he pushes away Suhani again and Rakesh slips accidentally and his head hits a wall. He gets injured and faints. Sudha and Suhani get worried for him.
Ranveer heads towards Ansh to beat him but Honey holds him at gunpoint. Honey tells Ranveer not to hurt Ansh else she will shoot him. Ranveer says before her he will kill Ansh. Dadu says someone please snatch the gun from Honey. Vikrant tells her to give the gun to him but she pulls the trigger and Ansh gets shot. Asha shouts Ansh and the latter dies. Everyone is stunned to see that and there Suhani rushes to hospital to get Rakesh admitted.
Asha breaks down to tears and Vikrant consoles her. Police comes to take Ansh's dead body and Honey gets arrested. Mamta goes near Asha but Vikrant tells her to stay away. He says it was Mamta and Ranveer's plan to kill Ansh. Now they must be happy after hurting Asha. Ranveer worries for Rakesh. He goes to his room.
Doctor tells Suhani and her family that Rakesh slipped into coma due to nerve damage and this news shocks them. Sudha says they went to Oberoi Mansion to congratulate Ranveer but because of his anger now Rakesh is in this state. Dadi also holds Ranveer responsible for her son's condition. Mamta goes to Ranveer and tells him to go to the hospital to give mental support to Suhani. She needs him now.
Ranveer says she doesn't need him that's why she didn't even call him before going to the hospital. She can handle everything alone. If she agreed to leave the house this drama wouldn't have happened. Mamta says Ranveer knows that Suhani cant live without him then why he doubts her love. She doesn't fake things as she truly cares about his family and wants to unite them. He should just keep aside his anger and think from her perspective.
Mamta takes Ranveer to the hospital and there Kamini tells Suhani and Ranveer ruined her life and will kill her family members one by one. She badmouths him and Mamta comes with Ranveer. Kamini asks him what he is doing here now? How shameless he is. Ranveer says Rakesh is his father too and he is here to support his wife.
Suhani tells him to keep his volume low as everything happened because of his anger. He should just leave. Mamta tells Suhani that she can understand her pain but they are a family and they should be together in this critical situation. Suhani says she doesnt want Sudha to cry more as she will get upset seeing Ranveer.
Ranveer leaves and tells Mamta to come. Doctor tells Suhani that Rakesh has to stay in the hospital for some days so she should talk to the health insurance company to manage the huge expenses. Sudha says they can even sell their house for Rakesh's treatment but he should fully recover. Mamta tells Sudha if she needs financial help from them, she can ask freely.
Sudha vents out her anger saying Ranveer is the reason why Rakesh is in coma. She regrets her decision for choosing Ranveer for Suhani when everyone was against their relationship. Sudha cries seeing Rakesh and Mamta feels helpless. Suhani apologises to Mamta saying they didn't want to hurt her intentionally.
Episode ends