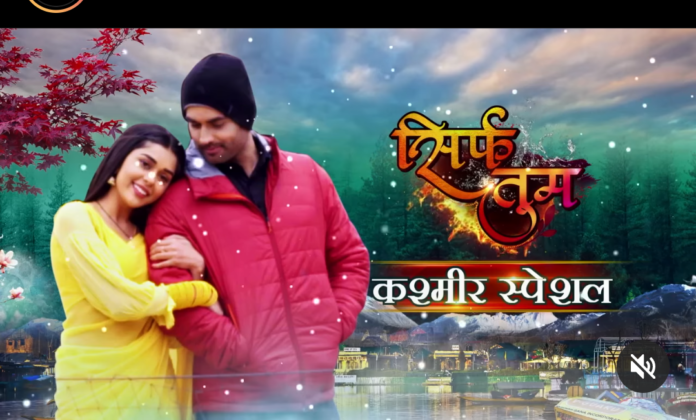 Sirf Tum 14th June 2022 Written Update on SerialGossip.in
The episode starts with Suhani and Ranveer sitting in a park. Suhani holds a rose and complains to Ranveer that he is not at all romantic and never acts like other boyfriends. Other boyfriends gifts many things to their girlfriends and takes selfie with them etc. Ranveer looks at the other couples and says though he is not like them but he loves Suhani truly. She doesn't talk to him and he says sometimes he wishes to click her pictures. She gets delighted and tells him to click a picture of her. She tells him to move backwards and he falls down and his shirt gets dirty. She laughs at him and then showers water on him with the pipe. He gets wet and says now Mamta will scold him after reaching home in this condition. He then realises he is not staying with her.
Mamta tells God that she never thought her son will left her for an outsider. Asha comes and says though Mamta is legal wife of Vikrant, she can atleast give her some space to perform God's aarti. Mamta moves from her position and Asha lights two diyas saying these are for her own success, one is for that moment when Mamta allowed her to stay in the hospital and another is for the moment when Vikrant ate her kheer and not Mamta's khichdi.
Asha adds slowly she will snatch all the rights from Mamta and she will take her place in this house. Ranveer left her already and Ansh is better than him. She talks about kicking Mamta out of the house. Mamta says Ranveer gave her shelter and now she is thinking she can replace Vikrant's legal wife. She calls Asha as a mistress who can never get anything respectful. She holds Asha's hand and tries to throw her out saying Asha will never succeed in her plan.
Ansh stops Mamta saying she wont misbehave with his mother from next time. He warns Mamta to stay in limits else noone is here to support her not even her son. She is alone and she should not do anything which angers him or his mother. Samaira records their conversation and sends it to Ranveer. Ranveer gets furious seeing the video and throws away the phone.
Suhani forces Ranveer to go to his mother without thinking about her case. She says right now Mamta needs him more. He should not take it lightly as in his absence Asha and Ansh might do wrong to her. Ranveer is not ready but she scolds him. Dadi says Ranveer left Suhani for Mamta's sake earlier and this time Suhani needs him so he is getting confused.
Ranveer calls Mamta repeatedly but the latter doesn't pick up his calls, he calls Samaira and tells her to give the phone to Mamta. Mamta says he doesn't need to show fake concern to her and she doesn't want to talk to him too. Ranveer insists but Mamta refuses to receive his call. Mamta cries and later she brings kheer for Vikrant as he likes to have it. He is about to eat it but Asha arrives with khichdi. She says Vikrant should eat light food now as in noon he ate kheer no he should not eat it again. It will cause stomach problem. Vikrant asks Mamta to learn something from Asha. He starts eating the khichdi Asha brought and says the taste is good. Mamta gets disheartened and leaves. Ansh smirks thinking now Mamta won't stay here for long. Her time is up.
Ranveer gets worried for Mamta and he recalls that he can't leave Suhani's side in this difficult time and thus he chose to support her. Suhani comes to him and he says he is in no mood to hear her lecture. She says she shouldn't have pushed him like that but she has a better idea. She says they can leave it upto God and in childhood also she used to do that. They can toss a coin and if heads comes then he will go to help Mamta and if tails comes then he will be with Suhani. Suhani tosses the coin and they see that its heads. She asks him solve Mamta's problem. He doesn't have to worry about her case.
Samaira talks to someone over phone that she will go to bring a cctv footage which can prove Suhani's innocence. She leaves the house at night and Ansh overhears her talk. He follows her to know what footage she is talking about. He sees Samaira is going to meet someone and he finds something strange. He is about to leave but Ranveer catches him red handed. He stops Ansh's bike and thanks Samaira for bringing Ansh to him.
Episode ends
Click to read