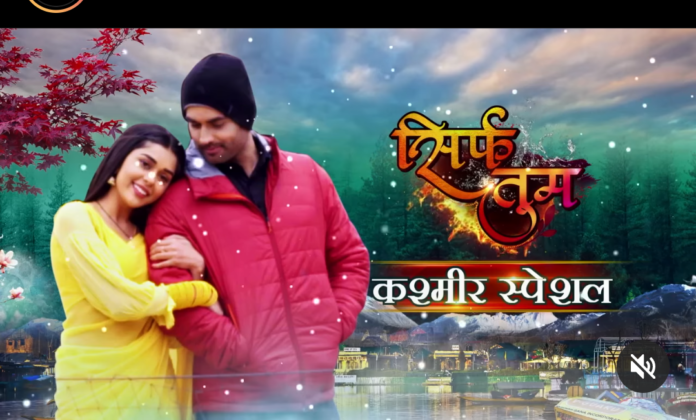 Sirf Tum 15th June 2022 Written Update on SerialGossip.in
The episode starts with Ranveer thanking Samaira for bringing Ansh to him. Ranveer says Ansh is a brainless person thus he couldn't execute his plan properly. He punches Ansh and then ties him up with rope. Asha worries for Ansh and gets video call from him. Ranveer holds the phone and shows Ansh's condition to Asha. Asha pleads him and Suhani to leave Ansh but Ranveer says he can't leave Ansh today, after he left the house they thought they can misbehave with his mother forgetting their real place but he kept eyes on them and he will punish them. Suhani says she also used to respect Asha but after watching the video she understood that Asha is also a hypocrite and she saw her true colors. Asha says she can do anything to save Ansh.
Mamta is at the temple and Asha apologises to her holding her legs. Mamta gets surprised and asks her to get up. Asha blows off all the diyas she lit and adds she will never try to cross her line or mistreat Mamta again. She requests Ranveer to spare Ansh. He tells Mamta that though he is not in the house but he is there to protect her always.
The love and respect in his heart for her will remain the same. He will return back after proving Suhani's innocence. Mamta gets emotional. Ranveer tells Suhani that they have to visit all the crime areas to find proofs. They reach a location and a vendor recognises Suhani as he noticed her during making reels.
Suhani and Ranveer find the goons in the reel Ansh sent in order to trap Suhani, they are getting inside a truck. Ranveer says everything is staged and these goons took Suhani to a ceased hospital knowingly where the wrong injection was kept beforehand. This truck only hit Vikrant's car. Ranveer and Suhani visit the Shanti hospital again and ask the security guard to show the footage where the person is keeping the wrong injection. But Ranveer sees the particular footage has been deleted and Suhani asks about the incharge of the cctv cameras, if they can get back the footage by using back up. Guard says the incharge is missing for some days, Ranveer says he is not missing but is hiding to avoid getting caught.
Mamta feels Ranveer's presence and the latter doesnt enter the house. He says it's good to see her happy face. He assures her that he will be back soon. Mamta says he will regret for his own deed, he says Vikrant called him and he goes to the garden to talk to him. Mamta thinks why Vikrant called him here. Vikrant is playing chess with Shashi. Ranveer asks him whats his new plan, Vikrant says he should atleast ask his father about his health. Ranveer says he can see Vikrant is doing good and many are there to take care of him.
Vikrant tells Ansh to leave as he will talk to Ranveer. Ansh calls Vikrant as papa and leaves. Vikrant tells Ranveer that he can withdraw his complaint against Suhani if he marries Riya. The condition is same like before. Ranveer says he was very clear from the start that he will only marry Suhani and he won't repeat the same thing again. He taunts Shashi for using Vikrant as his pawn in the game. Everytime he gives Riya's marriage proposal to control Vikrant.
Vikrant says but Suhani will spend her rest of the life in jail if Ranveer doesnt marry Riya. Ranveer says he will prove her innocence within five days. Ranveer meets Mamta before leaving. He ensures her that he will return back, for now Suhani needs his help. Mamta says maybe she can't support him in his decisions all the time but now she is with him. He says he knows that his mother will never leave his side.
Ranveer leaves and Roshni tries to manipulate Mamta saying that Ranveer left her alone again. Mamta says no matter where Ranveer stays but he will be always there to support her. Roshni says but he is still trying to prove Suhani innocent who tried to kill his father. Mamta says she doesn't care with whom he is right now but she trusts him and he will be always with her.
Episode ends
Click to read