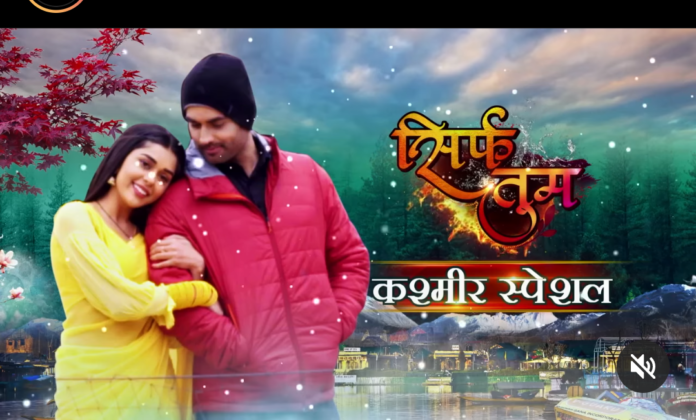 Sirf Tum 17th August 2022 Written Update on SerialGossip.in
The episode starts with Suhani getting delighted to see Mamta. Mamta says without Suhani their family is incomplete. Why she didn't contact them in all these years? She was angry with Ranveer then what was his family's fault? Suhani says she was really attached to them and she took this decision for her own good so that she doesn't get distracted. She wanted to start afresh. Mamta requests her to go back to Oberoi Mansion. Suhani says she can't do that, she moved on already. She can't forgive Ranveer for his wrong deeds. Mamta says she won't force Suhani but she believes in God. If Suhani and Ranveer are made for each other, they will get united for sure.
Ranveer comes to take Mamta for test. He asks Suhani what she is doing here? It's not her shift time. Suhani says she is answerable to him during shift time not after that. It's her own choice why she came to hospital. Mamta says she will get better now as she met Suhani. She doesn't need any medicine. Ranveer takes her back home. Aditya tells Suhani that Nisha is near general ward. Mamta tells her family about Suhani's return and also that she is still upset with Ranveer. Samaira says but they don't give up. They will start their mission of uniting Ranveer and Suhani.
Suhani looks for Aditya and learns he is with Ranveer on hospital terrace. Suhani fears thinking what if Ranveer is again troubling Aditya. She goes to terrace to check. Ranveer gives instructions to Aditya to note down some surgery procedures. It's important for emergency situations. He should not miss out anything. Aditya says he has height phobia. Ranveer says he won't change his style of assisting. He tells Aditya to stand on the edge of the roof. Suhani comes and stops him. She says she will write down instead of Aditya as he has vertigo. Ranveer says he didn't ask her to do that. Suhani says Aditya will check it later. She stands on the roof and falters. Ranveer saves her from falling. He says if she fell down, he would have wasted all her time behind her treatment which he doesn't want.
Mamta sees the wedding photos for Ranveer and Suhani. Ranveer tells her not to recall such memories which will hurt her only. Mamta says they didn't file for divorce yet. She asks Ranveer to bring back Suhani home so that she recovers quickly. Ranveer says that's not possible but Mamta says he should not give importance to his ego more than his mother's health. He should talk to Suhani regarding the matter.

Aditya tells Suhani that he will come late to the hospital. She is about to leave and Sudha asks her why she will go to hospital with Ranveer today. She is trying to keep Suhani away from Ranveer but it's not happening. Suhani says she met Mamta as well. Sudha says she clearly told Mamta that Suhani will not return back to Ranveer's life then why Mamta is forcing Suhani. Suhani says Mamta is unwell. She leaves and Dadi tells Sudha that Suhani will handle the situation alone, they don't need to worry.
Ranveer drives the hospital cab and leaves the driver behind. He recalls Mamta's wish and asks Suhani why she came in front of his mother? She is doing it knowingly to come back in his life. Suhani says what nonsense! She never thought of doing so. It's his plan. They get into an argument and Ranveer hits a bike by mistake. Some thugs are drinking alcohol and they threaten him. Suhani cautions Ranveer and he goes out to warn them for drinking alcohol in middle of the road. They attack him and he beats one of them. He says he will treat them after injuring them. One of the men hits Ranveer's head with a rod and Suhani shouts Ranveer.
Episode ends
Click to read: