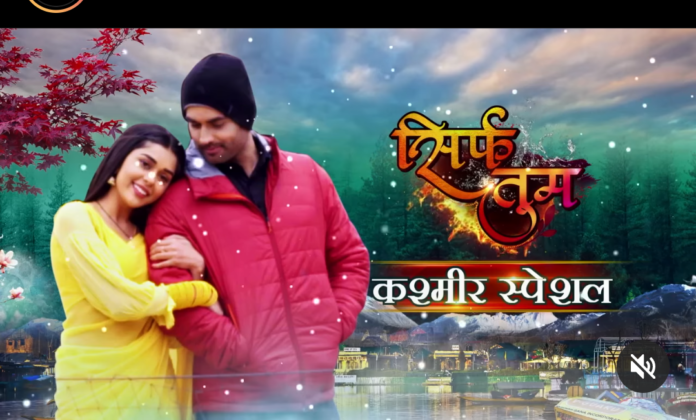 Sirf Tum 20th June 2022 Written Update on SerialGossip.in
The episode starts with Ranveer and Suhani leaving for court. Vikrant scolds Mamta for letting Ranveer go. Mamta says sometimes a mother needs to support her children by going against her husband. Ansh tells his men to untie him and he calls Shashi. He says that Ranveer got the proof and failed their plan. Now they are heading towards court. Shashi says that will not happen. Suhani sees someone is lying in the middle of the road. She thinks its an accident case. She tells Ranveer to stop the car. They both go to check the person and the latter suddenly throws some powder at Ranveer's eyes and starts laughing. Suhani is shocked to see that.
Ranveer struggles to open his eyes and some more goons appear. They hold Suhani tightly and start beating Ranveer. Suhani shouts Ranveer. In court hearing the opponent lawyer says that Suhani is a murderer. Rakesh objects to that saying Vikrant is alive and he is in his house, how can Suhani be a murderer then. Suhani's lawyer requests the judge to give some time to Suhani to prove her innocence. The opponent lawyer says Suhani couldn't show any proof in her support so Judge should punish her without wasting the time. Judge gives ten minutes to Suhani to submit any kind of proof from her side.
Suhani somehow frees herself and starts beating the goons with stick. She asks Ranveer if he is fine. They again catch her and Ranveer finally gets up and defeats the goons. Suhani shows concern to him and they share an eye lock. Ranveer leaves with her immediately to reach court. Rakesh tries to call Suhani and wonders why she didn't come to court yet. Her lawyer says that if she can't reach on time then he can't be able to save her from getting punished. Rakesh tells him to do something. After ten minutes the lawyer requests the Judge to give some extra time to Suhani as she might be in trouble. Judge refuses and he is about to pass the judgement against Suhani but Ranveer arrives with her.
The opponent lawyer says the given time is over and they should not listen to Suhani. Judge still gives a chance to her. Ranveer says their enemies tried to attack them to prevent them from reaching court. The prosecutor says Ranveer is just making excuses. Suhani stands on the witness box and gives the pendrive to the judge. She says it's clearly shown how the right injection has been replaced with the wrong one and Ansh is doing that. Plus someone tried to attack them on their way too and everything was planned.
Judge sees the footage and takes decision in her favour that she only tried to save a patient but she got trapped in a false case. She gets the clean chit and her family becomes happy for her. Suhani hugs Dadi, Rakesh. She tells him that Ranveer fought with goons to save her and she wouldn't have come here without his help. She sees Ranveer is missing so she goes out to find him.
Suhani finds Ranveer outside who is thanking her lawyer for winning the case. Lawyer says Ranveer only helped him win the case, Suhani asks Ranveer why he left without her. He smiles and says he will never leave her alone. Shashi accuses Vikrant for ruining Riya's life. He says he won't spare him or Ranveer for doing this to his daughter.
Meanwhile Riya sets the mandap on fire and everyone tells her to stop. Riya says Ranveer is her life and she wants him only. If he can't come to marry her then she will shoot herself. Shashi tries to convince her that she will get better guy than him but Riya remains adamant and threatens to shoot herself.
Episode ends
Click to read