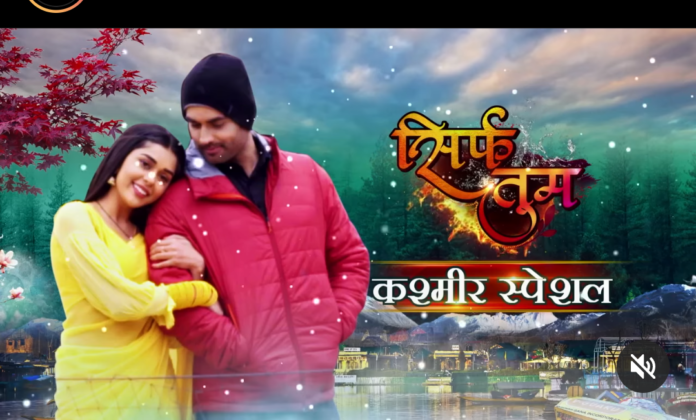 Sirf Tum 20th May 2022 Written Update on SerialGossip.in
The episode starts with Vikrant saying Asha and Suhani can stay here. Mamta asks him how can he allow Asha to stay here? Vikrant says he doesnt want to hurt Ranveer for small reasons also he promised him to let Asha and Suhani stay here for six months. He will not break his promise. Dadu asks what was Ansh's fault that Ranveer threw him out.
Suhani reveals that Ansh again kidnapped her and was taking her to an unknown place but thankfully Ranveer saved her on time. Mamta gets angry at Asha and says for how long she and her son will bring trouble in their lives , Asha raises her voice saying Ansh is Suhani's husband and he has the right to go anywhere with her. Noone should interfere between husband and wife. Ranveer favoured her thus she doesn't want to stretch the matter but fact is Ansh and Suhani are married.
Vikrant stops Ranveer from reacting and Mamta says she is legal wife of Vikrant and she wants Asha to leave the house at once. She tries to throw her out but Ranveer holds Asha. Mamta questions him how can he go against his mother for this cheap lady. She slaps Ranveer and he says she has the right to beat him but he is doing exactly what she taught him. She only told him that Suhani and Asha can stay here for six months. Then why she forgot that. He adds he can never disrespect his mother.
A courier guy comes with a parcel and gives a bouquet to Suhani. Suhani says it's for Mamta from Ranveer. Ranveer wishes happy mother's day to Mamta but the latter throws away the bouquet and leaves. Her feet gets hurt and she says this will recover but the pain thats inside won't go away easily. Ranveer warns Asha that she should not shout at Mamta from next time, else he will forget his promise he made to her.
Vikrant meets Shashi and hugs him. He says Ranveer is in his control and soon Riya will enter his life and Suhani will exit. Ranveer will obey his father. Asha calls Ansh and asks him where is he now. Ansh says he is planning something big and soon Vikrant will marry her and will give his properties to them. Their relationship will become legitimate and he will make sure that he becomes Vikrant's legal son. He suggests Asha to use Ranveer's emotions for her benefit as he won't do wrong to her. He says till then he will execute his plan by staying far from Oberoi Mansion. Asha gets confused.
Ansh goes to Suhani's house and Dadi asks him to leave. He tells her to calm down saying she is already old and should not take stress. He says he is just worried for their reputation as Suhani is staying in Ranveer's house without her husband. People will gossip about her and will humiliate her family too. If Rakesh learns that then how will he react.
Sudha requests him not to tell that to Rakesh. Ansh says they should handle the matter and warn Suhani before Rakesh gets to know about that. He leaves and Sudha panics. Dadi tells her to not show the tension on her face else Rakesh will doubt.
Ranveer goes to Mamta's room and thinks he should not hide anything from Mamta or Suhani. He wakes her up from sleep and says Vikrant is not the right person for her and just because Vikrant blackmailed him, he broke his engagement with Suhani. He tells Mamta to divorce Vikrant and leave the house with her son and Suhani. Vikrant doesn't deserve her. Mamta misunderstands Ranveer and says he is selfish and wants to marry Suhani thus he wants to separate his mother from her husband. She says she can't let Asha become Vikrant's wife.
Ranveer says she should not care what others will do in her absence, that should not be her business. She should think about her own future and happiness. He says atleast for his sake she should leave Vikrant. He makes her swear on him. Mamta says she is in a fix now, her son wants her to choose between her husband and her son. She can't leave a wife's duty and neither she can hurt her son being a mother. She has only option that is to end her life. She then jumps off the window. Ranveer shouts Ma.
Episode ends
Click to read