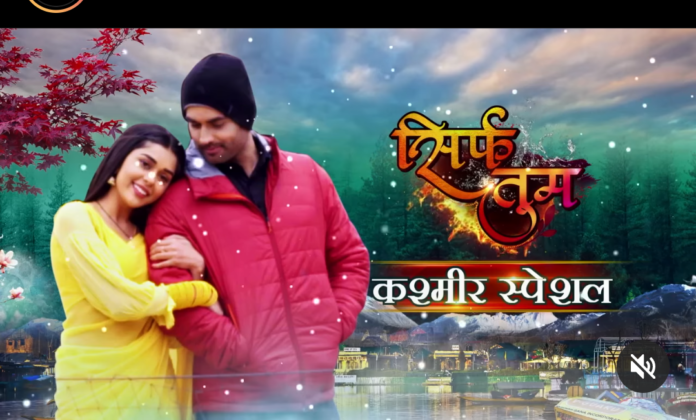 Sirf Tum 22nd July 2022 Written Update on SerialGossip.in
The episode starts with Dadi talking to Suhani. She says Suhani should still think twice before taking admission in a different college as there won't be any looking back if she moves further. Dadi says she supports Suhani's decision and she will reach heights and achieve success in her life but what about the pain in her heart? She still loves Ranveer so she should think about sorting out her issues with him. Suhani finds herself in dilemma and Dadi says second chance is good but in case of relations there should not be distance for long else she can't get back what she will lose. Suhani and Dadi go back to sleep.
Next day Suhani goes to the RN medical college with all the documents and transfer certificate. She tells the peon to give it to the Dean. The students out there ask Suhani why she wants to take transfer from such a renowned and famous college like Graphic Era. Those girls say that they couldn't take admission there due to low marks but Suhani is changing the college that's unbelievable. Suhani goes to Dean's cabin and the latter says its strange that a brilliant student like her wants to take transfer from a reputed college. But there must be a personal reason. He adds he approved it and he gives her a form for admission. He says once its done she can't take transfer again. She can't change her decision after submitting the form so she should think before filling it up. Suhani recalls Dadi's words that if she takes the final decision then that can separate her and Ranveer forever. Suhani leaves.
Suhani returns back home and Sudha asks her about the new college and its facilities. Suhani says she will make food for them. Dadi tells Suhani to answer Sudha's questions. Is the college good in terms of studies and rank etc. Suhani says though it holds lower rank than Graphic Era but she is atleast away from those horrible memories in her previous college. She will become a good doctor and will pass out as a bright student to increase the rank of this college. Suhani holds the form and gets into thinking. Her alter ego appears and asks her to take a wise decision.
As she knows that too she will get back to Ranveer if he says sorry to her. But how will he reach her as she changed her address and broke the sim cards too. Suhani says she doesn't want to wait for him. Her alter ego tells her that she is not egoistic then she should go back to her previous lifestyle and after Ranveer's apology she should start afresh with him. Suhani is not convinced by that.
Next day Suhani is ready to leave for college and Sudha performs her aarti. Sudha tells Dadi that she is worried for Suhani to which Dadi says Suhani looks determined this time. Suhani gets inside a taxi and tells the driver to go to RN medical college. One woman comes in front of the car by covering her face with her hair. Suhani gets confused and comes out of the car. The woman reveals her face who is noone but Honey.
Honey points gun at Suhani and says she came back to take revenge from her Devrani. Suhani is shocked to see her. Honey warns the driver not to outsmart her. She says she is getting punished for one murder so she doesn't care if she kills two more. She tells Suhani to sit inside the car silently with her. Honey asks the driver to go to an address. Suhani asks her how she came out of jail? Honey says Judge gave her three days of freedom for her husband's funeral.
So, she came to meet Suhani. Suhani asks her how Honey got to know she is in Rampur. Honey says Ranveer sent her here to take his revenge from Suhani. Honey says she really enjoys watching Suhani and Ranveer's fight. Suhani thinks if Ranveer knows where she is then why he didn't come to her and sent Honey instead. Honey ties up Suhani with rope and fixes a pot of hot oil above her. The oil drips and it falls on Suhani's head. Suhani screams in pain.
Honey asks her did she like the idea of torturing her? It's suggested by Ranveer and Honey says Suhani will never forget this suffering. Suhani shouts she can't believe Ranveer can stoop this low. She trusts him. Honey gets Ranveer's call and shows it to Suhani. Suhani says why he is calling you? Honey replies to hear your scream. She receives the call and Suhani gets angry at him saying she never imagined he would do this to her! Revenge is so important for him that he crossed his line. She will punish him soon. Honey turns off the speaker and talks to Ranveer. Ranveer tells Honey that she or Suhani can't cause trouble to him.
Episode ends.
Click to read