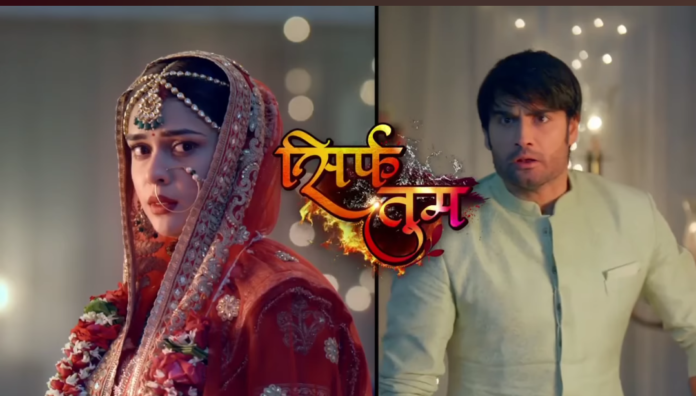 Sirf Tum 22nd March 2022 Written Update on SerialGossip.in
The episode starts with Suhani telling Ranveer that he doesn't need to favour them. They will go to her maternal home. Asha says they won't go there as Rakesh will face issues and people will question him as to why Suhani's in laws are staying with them. Ansh says he can't become gharjamai. Suhani agrees and then she says they will pay rent for their self respect. Ansh finds it weird but Ranveer agrees with Suhani if she feels comfortable then he is okay with it.
Next day during Holi celebrations Vikrant asks Mamta where is Ranveer to which Mamta says he will come soon. Ranveer enters and Mamta tells Dadu to act well so that Ranveer fails to catch his lie. Ranveer wishes happy holi to everyone and hugs Mamta. He avoids Vikrant. Asha enters and some ladies colour her face. Mamta can't recognise her first then after someone throws water at Asha's face everyone is shocked to see her. Ansh and Suhani also make an entry. Suhani recalls how she first came to this mansion.
Ansh tries to color Mamta's face but Ranveer stops him and warns him saying the latter should not forget his real place in this house. If he forgets his limit and tries to make relations with the members deliberately then there will be consequences. Asha thanks Ranveer for helping them in need. Mamta gets furious and leaves. Ranveer goes behind her. Asha tells Ansh that Vikrant won't let them stay here. Ansh says Ranveer will sort out everything.
Mamta scolds Ranveer for not thinking about her. How can he just bring Asha here. Ranveer says he did all these for Suhani as her house got sealed and she was on road. Mamta only taught him to help a women always then how could he leave Suhani alone. He says he couldn't stop himself from helping them. Mamta says she will throw Asha and Ansh out of the house. She cant see them everyday as it reminds her of Vikrant's misdeed.
Ranveer tells her not to do that as Ansh and Asha won't stay here forever. He assures Mamta will have no problem with them. Vikrant shouts at Asha that he won't let any trespassers stay in his house. Ranveer is mad so he brought them here. Suhani tells Ansh to leave but he says the game has just begun. Vikrant gets mad at Suhani for coming into Ranveer's life again even after separation. He tries to throw her out but Ranveer stops him. Ranveer goes with Vikrant to talk to him alone. He says he just gave shelter to homeless women and it's not wrong. Vikrant says to save Asha's respect he is doing wrong to his family.
Ranveer says he cheated on Mamta and it was wrong. He says Suhani was not ready to come here but he insisted her. He strikes a deal with Vikrant that the latter will let Suhani stay here with her family else he can forget his son. Vikrant says he has an offer too. Ansh tells Asha that slowly he will get everything he deserves
Episode ends
Click to read