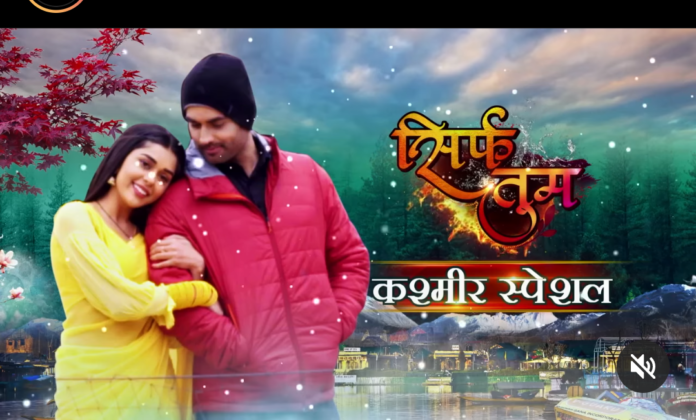 Sirf Tum 23rd July 2022 Written Update on SerialGossip.in
The episode starts with Honey asking Ranveer that he must have got the confirmation that Suhani hates him now. Honey says to Ranveer that Suhani called her here to take revenge from him. In flashback Honey manipulates Ranveer but Ranveer says she knows Suhani and she can never hate him. Honey should consult a doctor. Honey says then he should hear it from Suhani only. Flashback ends and Ranveer says he doesnt care about Suhani or her. They can't cause harm to him.
Honey turns on the speaker again and Suhani hears that Ranveer saying he hates Suhani now and she will see his hatred. Honey cuts the call and Suhani is shocked to hear all of that. Suhani feels pain and cries. She recalls Dadi's words. She says she was thinking to give him second chance but only hatred is left in his heart. Honey laughs saying she is executing her plan properly. Ranveer will think she is in his side and she will provoke Suhani as well against Ranveer.
Honey grows vengeful saying she lost Ansh due to Suhani and Ranveer and now these two will be in a hateful relationship. Suhani's family gets worried for Suhani. They think she never reaches home lately. Dadi calls in the college and asks for Suhani. She learns Suhani didn't even come to college today. Sudha gets tensed and Ishan goes to find Suhani. Sudha says what if Ranveer found Suhani and he might harm her. Dadi says Ranveer can never hurt Suhani. Honey mocks Suhani for trusting Ranveer. She says now Suhani will fail as a doctor too. She can't be saved by anybody. Honey tortures Suhani more and the latter cries.
Sudha tells Dadi to call Ranveer as they don't know anyone in this unknown city. They can't get help from anyone else except Ranveer. Sudha says she will apologise to Ranveer and will plead him to save Suhani. Honey starts doing Tandav in front of Suhani and picks a gun to shoot her. She is about to shoot her but one mysterious person arrives and puts net on Honey. Honey gets stuck there and can't free herself. She assumes its Ranveer. That person applies ointment on Suhani's burnt skin. He unties her and tells her to get up. Suhani gains consciousness and asks the person who he is. He shows his face to Suhani and gives his introduction as Dr Aditya.
Suhani asks him how come he knows her. Aditya says he saw her in Dean's cabin but before he could talk to her she left and didn't notice him. He came to her address to meet her but she left again. He followed her and found out that Honey abducted her. He came to rescue her smartly. Suhani thanks him for his help else she would have died.
Aditya says he will always help her in need and they are classmates so they will keep meeting each other. Honey threatens Aditya but he says now she will go to jail. Police arrests Honey and Suhani says her and Ranveer's game are over. Honey should inform Ranveer about that. Dadi curses Ranveer for his act and Sudha says its unbelievable Ranveer can stoop this low. Aditya meets them and takes Dadi's blessings. They thank him for saving Suhani despite being a stranger.
Aditya says now that he is friends with Suhani he will be there for her always. He shakes hand with Ishan and adds that if they are looking for any house for staying on rent then he can give them one. He has his own house where they can stay and since his parents don't stay here with him he will get a family through them. He will get to eat homemade food too. Suhani says thats nice of him but they can't agree to stay in his house. Aditya convinces them after insisting.
Episode ends
Click to read