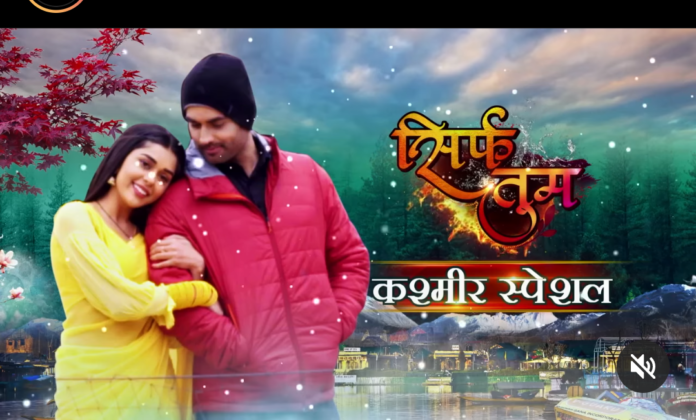 Sirf Tum 25th July 2022 Written Update on SerialGossip.in
The episode starts with Aditya convincing Suhani to shift to his house with her family. Suhani agrees and says but she will pay the rent. Aditya accepts it and leaves. Dadi says Aditya is so frank and friendly. Sudha says he is opposite of Ranveer who knows only to hurt people. Ranveer recalls how Suhani said she will punish him and Honey provoked him saying Suhani only wants revenge from him.
Ranveer drinks alchohol in anger. Suhani recalls Ranveer's words that he hates her now. She sees Ranveer's photo and recalls their special moments. She says now Ranveer has no place in her life as she wants to just forget him. He is dead for her now. She tears his photo. There Ranveer draws Suhani's sketch and drinks alchohol.
Next day Suhani moves to Aditya's place and rearranges everything. Aditya brings a table with Ishan and Suhani asks Aditya from where did he get it? Aditya says he bought it for her as it will be helpful for her studies and she should not get less marks than him. Suhani says but it's not needed, he already favoured them. Aditya says he is not doing it for free but he will get to good food made by Sudha and etc. He tells her not to reject it. Though she doesn't consider him friend yet but he does. Suhani finally agrees and Ishan Aditya keep the table inside her room.
Aditya tells Suhani to focus on her mocks as its near. Suhani thanks him and he leaves. Suhani brings out her books from the cupboard and turn the pages of a book. She finds Suhani loves Ranveer written over there. She removes the loves word and writes hates. She recalls his harsh comments and removes the sentence with her pen aggressively. She gets frustrated and looks into the mirror. She sees her mangalsutra and takes it off saying now Ranveer means nothing to her now. She doesn't want to keep any sign of him.
Mamta gets upset because Ranveer is not picking her calls and he didn't come home for two days as well. She says even Suhani left the city how she will make things right now. Vikrant says he can understand her worries and he found out that Ranveer is in Raghu and John's house. Mamta feels relieved to hear that.
Vikrant apologises to Mamta for his misbehavior, he says he wronged her and couldn't become a good husband. Now he wants to make everything alright. Mamta says she will bring back Ranveer but Vikrant says Ranveer needs some time to forget all the mishap and after some time they both will bring him back. Mamta forgives Vikrant saying she only wished good for the family. He replies he knows that but he couldn't value her.
Dadu says hope Ranveer and Suhani both come back home soon. Suhani leaves for college without finishing the food. Aditya offers her lift on his bike but she recalls how Ranveer used to give her lift. She refuses to go with Aditya saying she feels scared sitting on bikes. Aditya says he won't make her fall and they are in same class so they can go together. But she still denies and he calls a taxi for her. She leaves by that and he follows her.
Ranveer is seen unconscious on bed in intoxicated state and John Raghu get stressed seeing him. They see empty alchohol bottles all over the places. Raghu says Ranveer should not ruin his career like that. John says his parents are worried too for him. They try to wake Ranveer up but in vain.
Episode ends
Click to read: