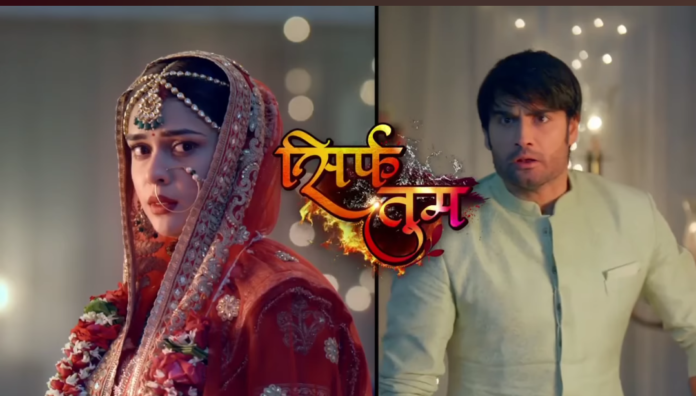 Sirf Tum 25th March 2022 Written Update on SerialGossip.in
The episode starts with Ranveer filling sindoor on Suhani's hairline and she gets shocked. He says now she is his wife. Rakesh gets up in shock and it turns out to be his dream. He says Suhani is not safe there in Ranveer's house. Ansh is still not waking up and Rakesh throws water at his face. Ansh wakes up and says what he is doing here. Mamta locks herself in a room and gets heartbroken. Ranveer calls her from outside. Mamta imagines Asha is laughing in front of her.
Asha says Mamta will stay in this corner only and now she is here and will snatch the rights from Mamta. Asha says even Ranveer is in her side so he brought her here. So Mamta can't be able to get the comfort anymore. She says she will throw Mamta out of Vikrant's life and this house too. Mamta throws a vase at her and shouts shut up. Ranveerg hears that Mamta tries to slit her wrist with the broken piece of vase and Ranveer breaks the door. He saves her and his hand gets injured. She worries for him and he says he can't live without his mother. She says but what about the pain he gave her by bringing Asha here. Because of Suhani he ruined everything. Mamta looksg shattered.
Rakesh calls out Suhani and Suhani comes downstairs thinking how Rakesh came to know she is in Ranveer's house. Rakesh gets furious at Suhani and asks why she is here. Asha asks Ansh where was he. He says his friends made him drink Bhaang so he ended up reaching Rakesh's house.
Rakesh says he should have died instead of seeing all this. How cang Suhani take shelter in Ranveer's house who left her in mandap. Sudha tells him to calm down. Ranveer tells Mamta to swear on him that she won't harm herself againg else he will burn the house. Ranveer says he will make arrangements soon and Suhani won't stay here for long with her family. She should give him some time. Roshni tells them that Suhani is leaving. Rakesh has come here. Ranveer rushes to see her.
Rakesh tries to take Suhani home but she says she won't go. She adds where her husband will stay she will stay there only.
Rakesh's home is not her home. Rakesh says she has rights on her house even after marriage. He will allow her in laws to stay there too. Ansh says Rakesh might face humiliation by local people. Asha says she doesn't want Ansh to stay in his house as gharjamai. Rakesh says the situation is not good so they should go with him.
Suhani says will he take rent from them as they don't have deposit money too. She says Ansh gave his consent too. He should let her handle the situation with her in laws. They will pay rent to Ranveer. Sudha agrees and Rakesh says they should take Suhani away. Vikrant comes and insults Rakesh saying why he is shouting in his mansion. This is not a "basti". He calls the guards to throw them out. Rakesh says Suhani can't stay in this toxic environment.
Ranveer tells Vikrant not to disrespect Suhani's family. He assures Rakesh he will take care of the fact that Suhani lives here without any problem. Rakesh leaves. Ranveer warns Vikrant and tells him to respect guests and Rakesh showed concern to Suhani but Vikrant doesn't have the big heart to understand that. Ranveer tells Mamta that Suhani didn't leave his house it's a sign that she will come back to him too soon.
Episode ends
Click to read