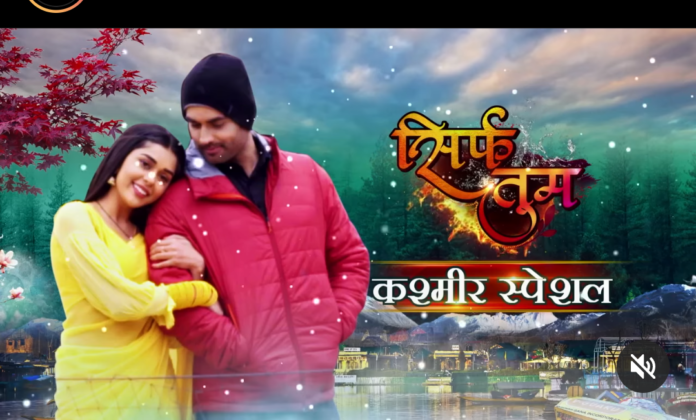 Sirf Tum 26th May 2022 Written Update on SerialGossip.in
The episode starts with the goons misbehaving with Nikita. Ansh comes and warns them saying they should leave at once else there will be consequences. They laugh at him saying he can't do anything. Ansh beats them but they catch him and hold him tightly. They beat him and he tells them to leave Nikita alone. One of the goons tell that he is Ranveer's enemy thus they should beat him more. Ansh somehow manages to free himself and he beats them black and blue. Nikita asks him if he is fine. He says he will drop her home. Suhani feeds Mamta and Ranveer calls her. She tells him about the whole day activities of Mamta. He gives training to the players and also texts Suhani asking about Mamta's health. She gives him the updates.
Suhani takes shower and is about to change but Ranveer video calls her. She only shows her face to him and he asks what she is hiding from him? Why she is not near Mamta? Suhani says she is changing clothes, he should have some sense. He feels embarassed and tells her to stay with Mamta after changing clothes. Nikita cries in front of Suhani's family and says if Ansh was not there, Ranveer's recruits would have killed her. Ansh says Ranveer is so desperate that he even threw him out of the house for Suhani. He is now homeless. Kamini says she won't spare Ranveer for doing this to Nikita. Nikita says she just wanted to take Suhani back home but Ranveer got so mad at her that he sent goons behind her. Nikita adds Ansh can stay in Suhani's house. Rakesh doesnt allow that and Ansh acts in front of him. He says though he is not allowing his son in law to stay here but he should atleast bring back Suhani else they are all aware of Ranveer's anger and he can do anything to Suhani. Rakesh leaves.
Suhani helps Mamta to walk and Rakesh comes to the mansion. He orders Suhani to leave the mansion and go with him immediately. Suhani says Ranveer gave her the responsibility of taking care of Mamta, she can't leave her alone in this state. She can't leave until Ranveer comes back. She requests Rakesh to understand that. Vikrant comes and says it's good to see Rakesh here. He tells Rakesh to leave with Suhani as Riya is here to take care of Mamta. Suhani gets shocked to see Riya entering the mansion. Suhani says once Ranveer arrives, she will leave otherwise not. Rakesh forcibly makes her leave the house and she looks at Mamta. Vikrant and Riya smirk. Roshni gives Suhani her luggage. Riya thinks finally she took another step towards Ranveer now she is waiting for him to come back.
Suhani goes in car with Rakesh. She gets Ranveer's call but Rakesh stops her from answering the call. She says she left the mansion without informing Ranveer so he should allow her to talk to Ranveer once. Rakesh refuses to do that. Ranveer gets restless and calls Suhani repeatedly. He holds the ball under his feet and doesn't pass that to the players. Players ask him continuously to pass the ball and other coaches also call Ranveer but he is busy on his phone. Ranveer says why Suhani is not picking his calls. One coach tries to take his phone but he says don't you dare touch my phone. He then kicks the ball out of frustration and it hits another coach without his knowledge. Ranveer leaves and Suhani gets worried thinking Ranveer will leave everything and will come back home if she doesn't receive his calls.
Rakesh tells Suhani that he was right before that parents feel relieved after getting their daughter married to a right guy. He should become like his old self as love is not important in a marriage but status and two families play the important role here.
Episode ends
Click to read