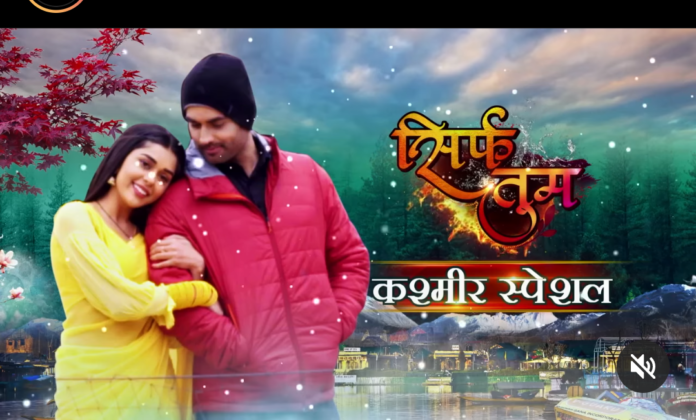 Sirf Tum 27th May 2022 Written Update on SerialGossip.in
The episode starts with Mamta going to room with Roshni in a gym wear. Roshni compliments her saying she is looking good in it. Riya says she knows about a best therapy which will cure Mamta's health soon. That's called dance therapy. Roshni encourages Riya saying medicine is not good for Mamta always.
Riya says Suhani has less knowledge as she first year student but she studied in USA about all these therapies. Mamta says first she wants to observe Riya and Roshni's dance, then she will join them. Mamta feel bit uncomfortable. Riya and Roshni start dancing and Ranveer calls Mamta repeatedly but due to loud music it's not audible. Riya ignores the calls even after seeing them.
Ranveer contacts Dadu and asks him where is Suhani and why noone is receiving his calls. Dadu reveals Suhani left with Rakesh and Vikrant also told her to leave. He brought Riya in Suhani's place. Ranveer gets shocked and asks why she didn't inform him once when he gave Mamta's responsibility to her. It's all her fault. Dadu goes near Mamta's room when Ranveer says he wants to talk to her.
Dadu hears loud music and informs about dance threapy and tells Ranveer that noone can hear his voice and they won't open the room door. Ranveer says due to dancing Mamta's BP will fluctuate and it's not good. He asks Dadu to stop the music instantly. He blames Suhani for leaving.
Suhani reaches home and Ansh says it's good that Rakesh brought her back home. She asks him what is he doing here? Nikita reveals how he saved her from goons whom Ranveer sent behind her after argument. Suhani says Ranveer can't stoop this low but it's all Ansh's planning. Sudha says Ansh can even get beaten by his own recruits.
Dadi also taunts Ansh. Nikita says Ansh got injured while beating those men but Suhani doesnt believe that. Kamini says only Ranveer is right for her, Ansh then gives papers to Suhani and asks her to sign it. He says she will change her surname into Saxena as she is his wife for the society and for him.
Suhani recalls how Ranveer doesn't want to change anything about her. She says that's the difference between him and Ranveer. She refuses to sign but Ansh says she has to as still she is his legal wife. Sudha asks Suhani not to obey Ansh. Suhani says if Rakesh allows she will sign.
Suhani is about to sign and Dadi tells Rakesh to take stand for his daughter. Rakesh stops Suhani saying until she feels proud to be Ansh's wife she won't add his surname with her name. He has no status, he is jobless and homeless both. He allows Ansh to stay there tonight as he is injured but from tomorrow he will stay somewhere else.
Kamini says but Ansh is their son in law, they should not leave him alone. Suhani gets Ranveer's call again but Rakesh breaks the phone. Suhani says she broke Ranveer's promise today and she did wrong to him. Rakesh ignores her words. Ranveer leaves the training in the middle and says he has something more important job to do.
Kamini says Ranveer will now create scene. Ansh says he will handle him, Rakesh tells him to stay away from their family matters. He closes the door and Ranveer arrives hurriedly. He knocks on the door and says he wants to talk to Suhani urgently. Rakesh says noone will open the door. Kamini suggests Ansh to hide somewhere else Ranveer will kill him.
Ansh says he is not scared of him. Ranveer requests Rakesh to open the door and Suhani says Ranveer won't leave without meeting her. Dadi says Ranveer respects elders so they can let him come in. Sudha says they will make him understand. Before Rakesh could reply Ranveer breaks the door and barges in.
Episode ends.
Click to read