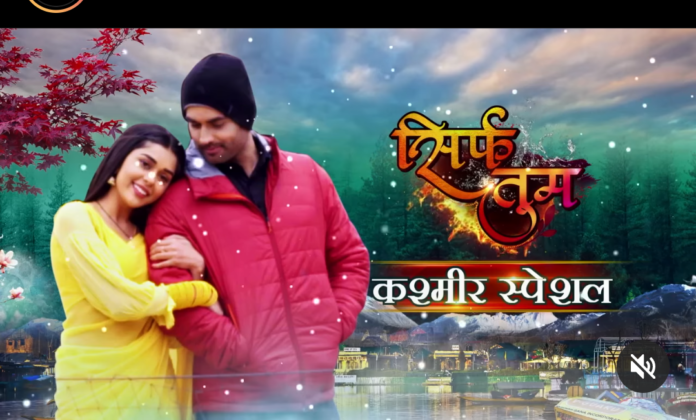 Sirf Tum 29th July 2022 Written Update on SerialGossip.in
The episode starts with Jayvijay lashing out at Suhani for trying to kill Ranvijay. He says who sent her to kill his son. Aditya comes in between to protect Suhani and Inspector tells Jayvijay to stay in limits as he can't take the law in hands. Jayvijay tells him to question Suhani why she did it. Ranvijay comes in wheelchair and says Suhani knew the food was poisoned thats why she didnt take the first bite.
Everyone gets surprised and asks Suhani why she didnt eat the food. Aditya says because Suhani kept a fast. She replies it's true and she didn't want to mix personal and professional stuffs so she didnt inform anyone. But she had no idea the food was poisonous. Police says they can't arrest her without any proof. Ranvijay says he is the evidence then what more he wants. Jayvijay goes to call someone and leaves angrily. Rakesh hears everything and hides seeing him
Rakesh asks Suhani not to worry and police sends his team for the safety of Suhani's family. Suhani thanks the inspector but he says it happened due to Aditya who texted him on time. Suhani recalls Ranveer's words that she is nothing without him, Suhani says loudly she doesn't need him to do anything. At home Rakesh tells his family that Jayvijay is Vikrant's close friend and project partner too. Jayvijay's men create scene outside of Suhani's house saying she is a murderer etc. They threaten Suhani to come out.
Sudha says she came here from Dehradun for peace but here also people are not letting them stay peacefully. Dadi says Rakesh can call Vikrant and if the latter says that Suhani is his daughter in law, Jayvijay's men will leave. Suhani says she doesn't need Ranveer's name or money to save herself. She doesn't want his involvement she can handle the matter alone. Aditya tells her to not go out as the situation is not under their control. Its risky. Rakesh also tells Suhani to wait for the police.
Suhani still faces the men and they point gun at her. In the meantime Police arrives and those men leave the place. Inspector says they have arrest warrant so they have to arrest Suhani. She notices a person like Ranveer from behind. She gets ready to co-operate with police and tells her family not to worry. She will be back with respect. Dadi calls Mamta and asks for Ranveer.
Mamta says Ranveer went to attend a medical conference. She asks her about Suhani but Sudha cuts the calls and removes the simcard. She requests Dadi not to force Suhani to get involved in her past again. Suhani wants to forget Ranveer and they should understand her choice.
Suhani has been taken to a house and the cop says they can't arrest a woman at night so they will wait here till morning. Aditya comes with food for Suhani but police doesn't let him come in saying they cant give the food to Suhani. Suhani tells Aditya to leave and she will manage. She shows him the chocolate he gave her and he says he will wait outside like a gentleman.
Episode ends
Click to read: