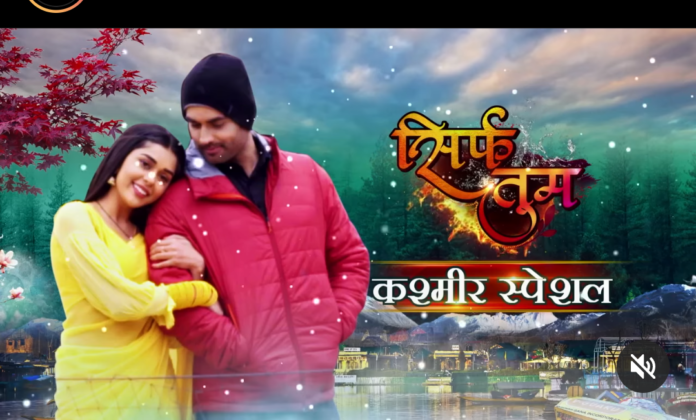 Sirf Tum 3rd August 2022 Written Update on SerialGossip.in
The episode starts with Suhani preparing notes and Aditya stares at her romantically. She calls him and he comes back to reality. He tells her to continue. She says no matter how much good student he is, noone can make her lose in preparing notes. She says she wants to know more about him. She asks if he has a girlfriend, he says he couldn't find a perfect girl for him yet.
She says she will help him find the special one. She asks if he drinks alcohol? He says he is far away from smoking and drinking alcohol. He is a doctor and these are not good for health. Suhani recalls Ranveer's act that how he accused her in intoxicated state. She says its good that Aditya is cautions about all these. Dadi finds alchohol Bottle in the kitchen and she gets shocked.
Sudha tells Rakesh that Aditya is a nice guy, who has no bad habits as well. Dadi comes to Rakesh's room and starts scolding him for consuming alcohol despite bad health. She says he left his addiction years ago and promised her he will never drink alcohol again then why he started again? Rakesh says he quit alchohol many years ago when he got to know he has liver problem due to that reason. He never touched alcohol after that.
Dadi says then why is this Bottle kept in the kitchen. Who is drinking that if not Rakesh. Suhani comes in and Rakesh says maybe Aditya drinks alcohol. Suhani says thats not possible as he told her he has no such addiction. He avoids drinking alcohol. Rakesh says sometimes people hide about their addictions. They don't feel comfortable sharing it with others. Sudha says Rakesh also used to hide it from her. He used to chew cardamom to remove the alcohol smell. Rakesh tells her not to recall past things.
Suhani says why would Aditya lie to her, he is her friend. She says she will ask Aditya about the bottle. Rakesh tells her not to as he might get offended. She takes Dadi to kitchen and says they can keep eyes on the person whoever is drinking alcohol secretly. Be it Aditya or Rakesh they will get to know who is doing it as an alcoholic can't stay away from alcohol. Dadi agrees.
At night Suhani waits for the person to take the alcohol bottle from kitchen. She thinks whether Rakesh is the one as he only knows they know about the bottle. She hears footsteps and hides. Ishan comes to take water from kitchen and Suhani suspects if he is drinking alcohol. He leaves the kitchen but drops the alcohol bottle by mistake.
Suhani catches him red handed and scolds him for growing bad habits. He knows Rakesh suffered a lot due to alcohol then why he did that? Ishan says even Ranveer is alcoholic, Suhani couldn't stop her husband from drinking alcohol then why is she stopping her brother just because he is younger than her? Suhani asks what nonsense he is speaking. She asks him since when he became an alcoholic.
He says he started drinking alcohol after seeing Ranveer. He tried from his bottle first. Suhani gets upset and Ishan cleans the mess. She tells him to give her the bottle pieces. He says she must be going to complain about him to Rakesh? She thinks she is great. Suhani says she won't tell anyone but Ishan has to quit this habit. She is a doctor and she wants him to not become careless. Ishan promises her that he won't repeat it again.
Suhani prays to Matarani that what she should do as Rakesh will fall sick hearing about Ishan's act and Sudha will lose trust from him too. Aditya asks her what is bothering her she can share with him. She says nothing and Sudha calls her.
Episode ends
Click to read: