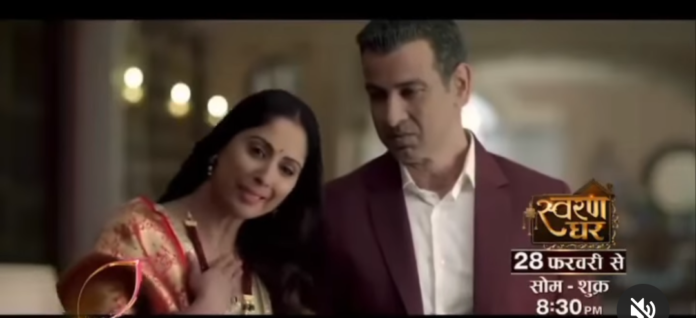 Swaran Ghar 14th June 2022 Written Update on SerialGossip.in
Today's episode starts with Kiran and Nimmo shopping for Kanwaljeet's pinddan. Kiran asks the shopkeeper for rudraksh garland. Swaran comes there and says that it will be sandalwood garland. Kiran says that Bebe has given her the responsibilities of the pinddan and asks Swaran not to interfere. Swaran asks if Kiran has ever performed any pinddan. Nimmo asks Kiran to cooperate with Swaran as they both have no idea about pinddan. Swaran buys all the ingredients. Kiran tries to take the bag from her. Swaran says that she will take all the stuffs to Swaran Ghar.
Swaran meets Ajit outside Swaran Ghar. Swaran says sorry to Ajit for whatever happened recently. Swaran tells Ajit that she knows where he is going that he is going to collect proof to prove Swaran innocent. Swaran adds that Ajit is her dear friend and she knows him by heart. Ajit says that he has to find evidence. Swaran asks him not to as she doesn't want to prove anything to anyone. Ajit says he will prove their innocence. Ajit calls Jai and informs him that he is returning to home. Divya and Ankita become happy after hearing about Ajit's arrival. Divya thinks that Ajit is returning forever and would not go back to Swaran Ghar.
Swaran reaches Swaran Ghar with the stuffs needed for pinddan. Kiran snatches the bag from Swaran's hand and pretends before Bebe as if she has done all the shopping. Bebe praises Kiran for bringing all the stuffs carefully. She asks Kiran to do all the rituals herself. Swaran tells Kiran that she will do all the preparations of her Bedi Sagan's pinddan and asks her to stop Bebe from arriving at the spot. Swaran does all the preparations singlehandedly. Bebe brings pandit ji. She hides in a corner before Bebe could Spot her at the place of pinddan.
Pandit ji praises the decoration. Bebe gives all the credits to Kiran. Pandit ji starts pinddan rituals. Yug, Nakul, Vikram come one by one and sit for pinddan. Swaran observes everything from a distance. Aarav asks Swaran to join. Swaran denies. Bebe notices Swaran but ignores her. Pandit ji asks Bebe if Kanwaljeet's wife will not attend the pinddan. Bebe says that she is not here. Vikram looks happy seeing Swaran's state.
Ajit reaches home. Divya becomes happy seeing him. Ajit starts looking for proof in his room. He fails to find anything. Divya asks Ajit if he has not received forever. Ajit says that he will return permanently after solving Swaran's problem. Ajit fails to find any proof in his house. He thinks about contacting Amrinder by visiting his shop. Dillu wishes to go with Ajit. Ankita requests Ajit to take Dillu with him as he is eager to spend time with Ajit. Ajit takes Dillu with him and starts looking for Amrinder's shop. He dials Amrinder's number.
Ajit noticed that Dillu is missing. He starts looking for Dillu restlessly. Ajit spots Dillu inside a shop and gets relief. Amrinder meets Ajit. He tells Ajit that he lied to Bebe as he got threat message on his number. Someone gave him threat to kill his entire family. Amrinder gives a pendrive to Ajit and tells Ajit that it has recording of that Ramleela which will prove Swaran's innocence. Ajit asks Amrinder about the number. He calls that number and recognises Vikram's voice. Ajit calls Swaran and tells her everything. The episode ends.
Click to read