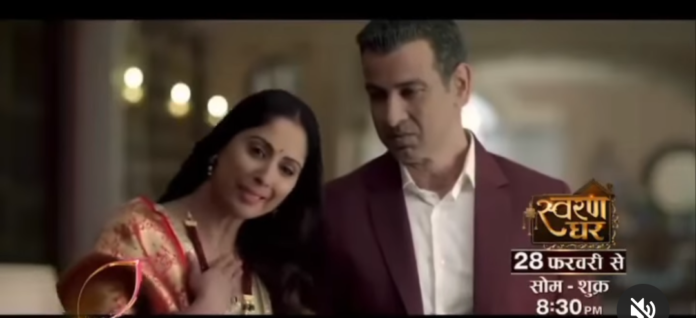 Swaran Ghar 16th August 2022 Written Update on SerialGossip.in
In today's episode, Aarav calls Swaran and asks her to come to the back stage as he has forgotten the prayer she taught him. Swaran says that she can't come to the backstage but asks Aarav to recite the prayer along with her. Swaran recites the prayer. Arjun hears it and realizes that it's the same prayer which he heard while Swaran rescued him from the accident spot. He runs towards Swaran and steps on the earring. He picks it up and calls Swaran as ' Swaran Bedi '. Swaran asks Arjun what happened, if he wants to say her something. Arjun says that he wants to thank her for saving his life twice. Swaran recalls Arjun's accident. Arjun offers Swaran her earring. Swaran realises that her earring is missing. She takes and wears it.
Nimmo offers handkerchief to Ajit to wipe tears as he tried a lot to bring Swaran inside but failed. Ajit says that Nimmo should hold world record for stooping the lowest. He tells Dillu that if someone tries their level best to bring you down that means it's your time to shine the brightest. The anchor welcomes the chief guest of the programme. Limelight follows Swaran when she walks in as the chief guest accompanied by Arjun. Swaran receives grand welcome at the function. Kiran and Nimmo look shocked while Ajit gets overwhelmed. Kiran and Nimmo try to go forward but guard stops them. Swaran sits in the VIP seat beside Arjun. Swaran thanks Arjun. Arjun says that it's the least that he could do for Swaran. Swaran looks at Ajit, Jai and Dillu. Arjun sees them. Swaran says that Ajit is her friend and he tried his level best to bring Swaran inside.
Arjun goes to meet Ajit. Ajit introduces Jai and Dillu with him. Ajit says that Swaran is his friend for whom he was serving at the Gurudwar. He also reveals that Arjun helped them when Swaran's grandson was kidnapped. Arjun invites Ajit and his family to join Swaran and him at the VIP zone. Ajit goes to Nimmo, returns the handkerchief and asks her to wipe her tears and runny nose. Ajit, Jai and Dillu sit on the VIP seats beside Swaran and Arjun. Nimmo tries to instigate Kiran saying that Swaran has called her friend in front not Kiran.
Anchor calls Arjun on stage. Arjun says that his Goldie name was given by the principal as he always won gold medals in sports. He says that Goldie means Swaran too. Arjun says that people who has heart of gold, help people selflessly deserves gold medal too. Arjun praises Swaran and thanks her for saving his life twice selflessly. He asks the audience to stand up and clap for Swaran. Kiran goes to stand up but Nimmo stops her. Vikram calls Arjun but he cuts Vikram's call again and again. Vikram steps on cowdung, Bebe splash water on his shoe. Vikram questions Bebe for staying in such a bad place. Bebe says that this place is better than Vikram's house which is filled with lies and deception.
Vikram says that he never asked Bebe to leave. Bebe says that the person who can't love his mother can't love anyone else in this world. Anchor announces about Aarav and team's performance and says that we should learn from them how to protect ourselves and our belongings. Swaran recalls how Vikram snatched everything from her. Aarav's performance starts. He sings ' Ae Watan ' but forgets line suddenly. Swaran tries to make him remember by singing silently. Arjun holds mike infront of her and asks Swaran to join Aarav on stage. Swaran goes to the stage and sings along with Aarav. Kiran looks happy. Swaran delivers a small speech after that. The episode ends
Precap : Ajit tells Arjun what all happened to Swaran, how the queen of Swaran Ghar now do job of picking up and dropping school students. Arjun says that Swaran can do some other work, even he can offer her a job. Swaran tells Bebe that she is hopeful about future and will celebrate Janmastami at their place.
Click to read: