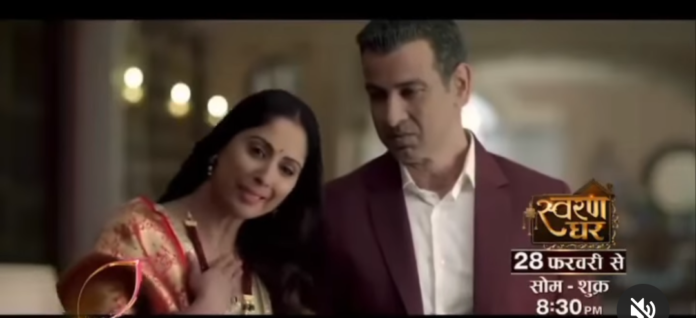 Swaran Ghar 16th March 2022 Written Update on SerialGossip.in
The episode starts with everyone getting shocked seeing Swaran wearing a red suit. Swaran recalls Kanwaljeet's words where he said that he doesn't like to see her in full colors. Nimmo raises question about her for being decked up being a widow. Neelu says how are Swaran's sons going to react seeing Swaran like this. Swaran puts tika on Kanwaljeet's photograph. Nimmo quarrels with a neighborhood girl for parking slot. Property agent tells Nimmo that he has come to see the house as Swaran asked him to sell Swaran Ghar. Nimmo asks him about the price of Swaran Ghar. She says she will make sure Kiran gets the biggest share. Swaran sings a song.
Nakul, Vikram, Yug, Kiran and Aarav reach Swaran Ghar. They cry seeing Kanwaljeet's photograph and calls Swaran. Swaran keeps singing. They call her again, Swaran stops and sees their reflections in the photoframe. Nakul, Vikram and Yug hug Swaran and cries. Nimmo signals Kiran to join them. Swaran continues to sing. Nakul asks Swaran to stop singing Kanwaljeet's favourite song and trouble herself. Swaran says it's the last song they sang together. Kiran says Swaran not to worry as they have come and they will handle everything now. She asks Nakul to go with Vikram and bring Kanwaljeet's dead body from the hospital. Priest asks to start further rituals. Kiran asks how that can be done without performing the last rites. Nimmo tells Kiran that the last rites was performed yesterday only. Nakul, Vikram, Yug and Kiran get shocked and ask Swaran who has performed the last rites.
Sharvari takes Swaran's name. They get furious and questions and blames Swaran for taking away their rights from them. Ajit recalls Kanwaljeet's words that none of his three sons are worthy. They keep questioning Swaran. Swaran asks them not to shout as Kanwaljeet will not like that and asks preist to start the holy reading. Ajit recalls Kanwaljeet's words where he mentions about handing Swaran as none else can do that in this world. Nimmo asks Kiran if she knows Ajit. Swaran leaves the hall. Vikram asks Nakul whether they should stand there and act like nothing has happened. Vikram asks Nimmo why Swaran has performed the last rites without them and why he didn't stop her. Nimmo says Swaran is behaving according to her wish.
He questions Sharvari too regarding the same. Yug says Swaran might did this in shock. Vikram says that Swaran has no right to snatch their rights and not allowing them to see their father for the last time. Vikram asks who has instigated Swaran and gave shoulder to the funeral with her. Nakul goes to Swaran and asks her to say something as he is her dear Nakul. Swaran recalls Nakul's words about Kanwaljeet hiding money from his family. Nakul asks if he doesn't have the right to see his father the last time. Nimmo tells she should have stopped Swaran from performing the last rites. Vikram keeps asking who joined swaran for the funeral. Ajit tries to come forward but his son asks him to leave as it's their family matter.
Nimmo asks Kiran to go inside. Swaran tells Nakul that one injection could save him. Vikram tells that they could not send injection or take them to USA so Swaran decides to give them a guilt for lifetime. He says that Swaran not only snatched their rights but also took revenge from them. Swaran wishes to not talk. Vikram says nothing can rectify her blunder. He says only Swaran is responsible for Kanwaljeet's death not them. The episode ends.
Click to read