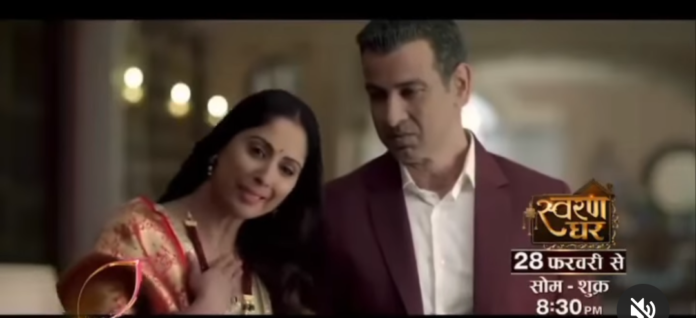 Swaran Ghar 16th September 2022 Written Update on SerialGossip.in
The episode starts with Swaran coming back home from her trip. Bebe asks her why Ajit didn't come to meet her on his way back. Swaran gives her medicine and tries to change the topic. Jay calls Bebe and says sorry for disturbing. He tells he wasn't able to connect on Swaran's phone and Ajit is having high fever since he has returned from the trip. Bebe tells Swaran that Ajit is having high fever. Swaran recalls how Ajit was coughing earlier and slept outside in cold.
Swaran picks her purse but remembers how Ajit had been ignoring her during the trip and denied taking her help and thinks he is already sick and might get more upset seeing her. Bebe recalls the incident last night how Swaran had asked Ajit never to meet her. She asks Swaran to forget everything and now go to check Ajit first. Swaran sits blankly. Bebe tells even if she doesn't come, Bebe will go alone. Swaran recalls how Bebe had said after her she trusts only Ajit who would come at Swaran's one call.
Bebe stops auto and is getting up when Swaran also comes and helps her get inside. Both of them leave for Ajit's house. Doctor tells Jay that Ajit's condition is serious and if medicines don't work he should be shifted to hospital. Swaran and Bebe wait in the hall. Dillu comes and tells Swaran that Ajit is having fever and doctor is inside. He tells he will bring medicines list. But instead of prescription he brings the confession card which Ajit had made years back. Swaran reads it and is shocked. Even Bebe reads and tells Swaran that he has expressed his feelings well.
Bebe assures Swaran that Ajit won't take Kanwal's place. Swaran goes inside room to meet Ajit. He is unconscious and doesn't respond. Swaran tells him that she wants to fight with him and he needs to get well for that. His fingers show little movement. Swaran gets call from Nakul who keeps crying saying he hasn't done anything. Swaran goes outside and Bebe sees news flashing about Vikram and Nakul. Swaran turns the volume on and is shocked to know about the scam they have done with cream which led to skin allergy of lots of people.
Swaran talks to Nakul who says he is waiting outside her room. Swaran and Bebe reach home. Nakul and Kiran cry and tell it was Vikram's idea and he is innocent. Swaran asks him to tell what they did. Nakul tells about using fake saffron instead of real one. She scolds him for spoiling their family name. She tries to call Vikram but he isn't reachable. Swaran tells Nakul they should go and ask forgiveness from ones who have suffered and surrender to police. The episode ends with police reaching Swaran's house and forcefully taking Nakul to jail.
Precap – At police station, police arrests Swaran as she is owner of Swaran Nikhar. Vikram is shown and he says Swaran has to pay this much for being company's managing director.
Click to read