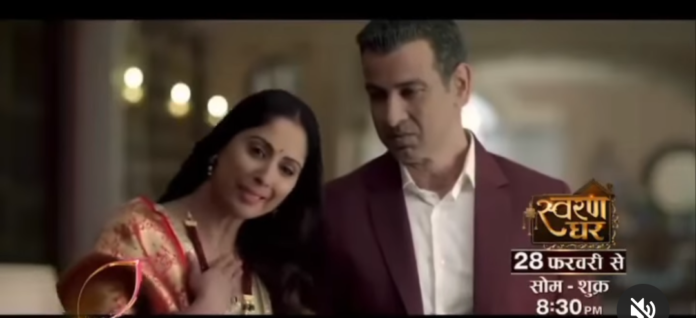 Swaran Ghar 17th June 2022 Written Update on SerialGossip.in
Today's episode starts with Bebe dictating everyone's roles in Swaran Ghar. She asks Vikram to leave his job, bring his family and settle in India. She asks Vikram and Nakul to handle the business of Swaran Nikhar. Swaran tries to object. Yug says that Swaran has restarted Kanwaljeet's business she has all rights over the business. Bebe says that Swaran's only responsibility is to look after the house and her family, she doesn't need to worry about the business. Swaran says that Kanwaljeet had to sell his business because his sons never had any interest in handling the business.
Swaran says that she doesn't want to run the business alone, she has no problem to work with them but she doesn't want to step back from the business. doesn't listen to Swaran and asks Nakul, Vikram to work for the latest order of 500 bottles of Swaran Nikhar. Swaran says that her sons can't do it as they don't have knowledge of ingredients. Bebe says that it's it not a big thing, they can easily make the cream by following the recipe mentioned in Kanwaljeet's dairy. She tells Bebe that she will handle the business as she wants to become independent even Kanwaljeet wanted the same for her. Yug supports Swaran. Vikram asks him not to interfere and handle his acting shop instead.
Swaran meets Ajit outside Swaran Ghar. Ajit carries two heavy bags. He says that he knows about Swaran's mental state. He reminds Swaran how she taught lesson to her classmate in school. Swaran says that those days are gone, now she can't fight with anyone. Swaran gets an idea and says that she will take help of Kanwaljeet's dear friend and make the cream separately. Swaran says that she doesn't want to compete with her sons she just wants to save Kanwaljeet's fame and respect. Ajit tells Swaran that he has brought all the ingredients required to make the cream and asks Swaran to do the work at his dhaba. Swaran becomes happy and goes to Ajit's dhaba to prepare the cream.
Vikram mixes ingredients at Swaran Ghar to make the cream following Kanwaljeet's dairy. Nakul asks Vikram to mix the ingredients in right proportion. Vikram asks Nakul not to school him. Bebe enquires about the process. Swaran meets Yug and Dillu at the dhaba. Yug says Swaran that he and Dillu will assist her in making the cream. Swaran works with the ingredients along with Yug and Ajit while telling the story of Bottle Rani and Kangi Singh to Dillu. Swaran calls Nakul and asks him to Vikram to cover the vessel after adding rose water essence in aloevera as Bebe is allergic to rose petals. Nakul goes to inform Vikram. Bebe comes there and starts sneezing.
Neelu rushes to bring cover of the vessel. She collies with Nimmo. Nimmo falls on the vessel and the concoction falls on floor. Bebe asks where is Swaran and Kiran. Neelu says that Swaran went for satsang with Sharvari. Nakul calls Kiran and asks her to return. Kiran says that she can't come and feed Bebe. Bebe hears that and orders Kiran to come immediately. Kiran reaches near Ajit's dhaba and spots Swaran there. She learns that Swaran has lied about Satsang and preparing cream at dhaba. The episode ends.
Precap – Swaran stumbles but Ajit stops her from falling. Kiran secretly clicks their photos and plans to show them to Bebe.
Click to read