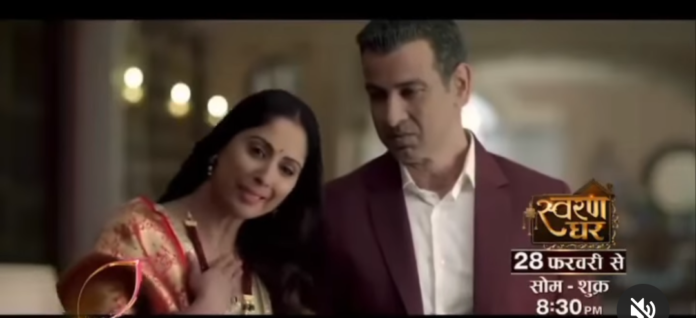 Swaran Ghar 18th March 2022 Written Update on SerialGossip.in
The episode starts with Swaran walking over river and recalls her and Kanwaljeet's moments. Neighborhood girl sees her and asks for help. Ajit sees her and shouts her name. Swaran slips and starts drowning. Ajit runs to save Swaran. Vikram inquiries in neighborhood about Swaran. Ajit takes her out of the river. Swaran lies unconscious. Ajit brings Swaran home by auto. Everyone see them together. They rush to take Swaran inside. Aarav calls Ajit power man uncle. Nimmo asks Kiran about Ajit who gave shoulder to Kanwaljeet body yesterday and today he picks Swaran in arms.

Sharvari and Ajit try to wake Swaran up, Ajit asks Neelu to bring a special tea for Swaran with black pepper, ginger, honey etc. Swaran gains consciousness. Yug and Nakul ask Swaran where she has gone. Swaran says lake for Kanwaljeet. He was smiling and calling her. She was following him and she forgot what happened after that. Nimmo feels weird about Swaran and says that she wants to know Ajit's identity. Ajit says Swaran slipped and fell in the water. Nakul and Vikram questions Swaran for her foolish act. Kiran asks them to stop and shows concern for Swaran. Ajit says Swaran that he is leaving. Nimmo asks Kiran to go outside and know Ajit's identity. Kiran follows Ajit. She thanks him for helping Swaran and asks for permission to call him uncle as she doesn't know her name. Ajit tells his name to Kiran. She thanks him for saving Swaran's life and asks him how Swaran reached there. Ajit says he doesn't know. Ajit says that by God grace he reached there as Swaran can't swim. Kiran gets shocked and asks how he knows that. She changes her word saying how he knows Swaran is at the lake. Neighborhood girl tells Kiran about what happened. Ajit thanks her and leaves.
Ajit calls Swaran and reads out a old letter of Swaran. Swaran says she has forgot about it. Ajit says he is there to remind her everything. He asks Swaran to complete the ludo match. Swaran tries to play but says she can't do it. Ajit says she must got six and calls her ludo champion. He asks Swaran to take care of herself. Swaran says it's not happening without Kanwaljeet. Aarav wakes Swaran up and tells her that he will take care of his grandmother from now. Sharvari calls Swaran and asks about Kanwaljeet's thirteenth day rituals. Swaran worries for Swaran and prays to God to give good sense to her sons. Swaran asks Aarav if he will go with her. Aarav asks where, Swaran says where his grandfather use to go. Neelu tells Ajit's that she can't make the Kanwaljeet special tea. Ajit suggests her to make coffee for Swaran. He also asks to remove the vase of roses from Swaran's room as it reminds her of Kanwaljeet.
Ajit prays to God for giving strength to Swaran. Swaran asks Neelu to start preparing for some dishes. She sees the tea tray with rose and remembers Kanwaljeet. Neelu removes it immediately. Neelu asks for permission to make dalgona coffee for her and Swaran. Swaran nods. Vikram tells that he has extended his vacation. Nakul tells he can't stay more than 7 days for the Disney Land plan. Vikram says they have to speed up the process of selling Swaran Ghar. Vikram shows him Kanwaljeet's Rolex watch and tells that he is keeping that. He asks Nakul to keep the Kada and leather jacket. Nakul tries to stop him but Vikram asks him to be practical. He says sooner or later they have to decide who is keeping what. Nakul asks him to talk to Swaran first regarding the house selling matter. Nakul says that Swaran has made Aloo Puri and Gajar Ka halwa for him as he is her favourite. They go to kitchen and look for the dishes but found empty vessels only. Swaran reaches orphanage home with foods and Aarav. Neelu informs Ajit about the incident. Nakul, Vikram decide to talk to Swaran regarding house selling matter.
Click to read