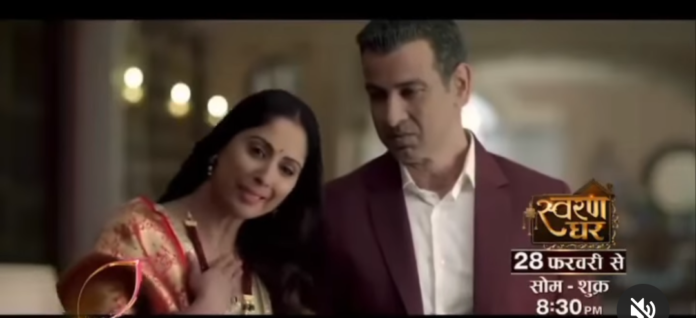 Swaran Ghar 19th August 2022 Written Update on SerialGossip.in
In today's episode, Bebe sees Arjun and recognises him. Ajit tells Bebe that it was Arjun who made Swaran the chief guest at Aarav's school function. Bebe thanks Arjun. Arjun says that it was nothing infront of what Swaran and Bebe did for him. Bebe says that she heard that Arjun is a very successful man. Arjun says that he is inferior infront of Bebe. Bebe asks Swaran to take good care of Arjun. Nakul brings Nimmo's luggage in the hall and asks her to leave Swaran Ghar. He says that when his mother can't stay at her own house, Nimmo has no right to stay there too. Kiran asks Nimmo to leave aswell and says that she can visit Swaran Ghar whenever she wants. Nimmo leaves Swaran Ghar angrily.
Ajit tells Arjun that he is tensed because of a court case. He says that a rich influencial man is eyeing his plot and trying to snatch it illegally. Arjun sees that Swaran's dupatta is catching fire. Arjun says no to Ajit and rushes towards Swaran. He stops the fire using his hands while Ajit catches the Arti ki thali. Bebe thanks Arjun for saving Swaran's life. She says that Arjun is a great man so he paid back to Swaran this way. She asks Swaran to put cold water on Arjun's hand while she applies coconut oil on them. Ajit sees Swaran pouring water on Arjun's hand. Ajit feels low. Later, Swaran tells Bebe that they don't have sweets so will offer sugar to Baal Gopal. Both Ajit and Arjun offer sweets to Swaran. While Arjun brings huge packet of Sweet, Ajit brings small tiffin box. Swaran takes both happily.
After Puja, Swaran offers prasad to Bebe. Bebe says that she doesn't like boondi ki ladoo brought by Ajit and takes the Kaju Barfi Arjun bought. Swaran says that she loves boondi ki ladoo and asks Arjun to taste it. She praises Ajit's cooking infront of Arjun. Arjun says bye to Bebe and calls her as Auntyji. Bebe asks him to call her Bebe. Ajit feels ignored by Bebe. Bebe asks Arjun to visit again. Arjun says that he will as they are good friends now. Arjun hears that Swaran is praising RJ Tanha infront of Bebe. He smiles and leaves with Ajit. A person comes to Swaran Ghar with decorative items and asks for 2000 rupees for doing janmashtami decoration. Nimmo says that she will do the decoration and takes 1000 rupees from Kiran.
Later, Nakul and Aarav criticize her poor decoration. Aarav says that Swaran taught him how to do it and fixes the decoration. Nakul and Aarav plan to visit Swaran in the evening. Nimmo asks Kiran to stop them. Kiran tells Nakul that she won't let Aarav to meet Swaran. Aarav says that he has to go to break Swaran's fast. Kiran says that Aarav has break Nimmo's fast. Aarav says that he saw Nimmo eating parathas secretly. Arjun asks Ajit to share his problem with him again as he could not give attention earlier.
Ajit goes to tell him but receives Nakul's call. Nakul tells Ajit that he and Aarav can't come in the evening. He recalls Kiran's words and misbehaves with Ajit.
Ajit looses his calm and tells Arjun that he has to inform Swaran about it. Arjun says no need as he has a plan. Swaran tells Bebe that he wants not only Nakul and Aarav but all of her sons to come and break her fast. She prays to Krishna to do some miracles. Arjun calls and asks Kiran and Vikram to meet him. He offers them to promote Swaran Nikhar by RJ Tanha in exchange of doing his work. He asks Kiran, Vikram to visit Swaran with Nakul and Aarav. The episode ends.
Precap : Swaran sees Aarav, Kiran, Nakul and Vikram at her place. She gets overwhelmed with joy and thanks God. RJ Tanha unmasks himself. It gets revealed that he is none other than Arjun in disguise.
Click to read: