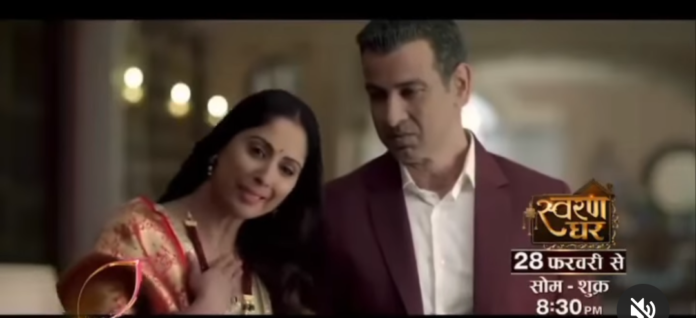 Swaran Ghar 19th July 2022 Written Update on SerialGossip.in
Today's episode starts with both Swaran and Yug calls each other but fails to contact. Bebe praises Swaran for making the place a beautiful house to live. Sharvari reaches there, she gets surprised seeing the place too. Ajit asks for sugar from outside. Swaran goes to check and sees Ajit. Swaran asks Sharvari why she broke her swear. Ajit says that Sharvari didn't break any swear as he would find Swaran from any corner of the world. Bebe asks Ajit why he came. Ajit says that he has brought bread pakora for them. Bebe allows Ajit.
Arjun asks his employee about the interview for receptionist. Her employee replies that the interview will be conducted the next day. Arjun says that he himself will take the interview. Swaran checks job requirements advertisements in the newspaper. She says that she will do job to run the household. She sees Arjun's radio station's advertisement and finds it suitable for her. Ajit supports Swaran. Bebe says that it's obvious he will support everything Swaran does. Sharvari says that there is a RJ called RJ Tanha who comes at the same station, he is too good. Her daughter is a big fan of him. Sharvari leaves.
Bebe asks Ajit to leave aswell. Ajit says that he was thinking about bringing Jalebi in the afternoon. Ajit reminds Swaran about Vikram's deeds. He tells Swaran that it's not her fault that Vikram cheated her. Swaran says that it's not Ajit's fault too. Ajit returns Swaran her phone and says that a good hearted person has returned it to him. Ajit reaches his dhaba and meets Divya. Divya says sorry to him for wishing bad for Swaran. Divya plays radio to listen to the show of RJ Tanha. Ajit wants to switch the radio off but Jai, Divya stop him while praising RJ Tanha.
Ajit mocks RJ Tanha while listening to his program. Ajit's lawyer Kapil arrives at Dhaba and informs him that Arjun Deol has challenged his stay order at court. RJ Tanha looks like Arjun in disguise. He talks about Swaran indirectly that how a generous lady has saved his boss's life twice and his boss wants to meet that lady. He requests if that lady is listening to his program, please meet his boss. Bebe tunes in that radio station later so Swaran misses hearing RJ Tanha's words for her. Arjun looks at Swaran's handkerchief and says that he had to meet her as she has saved him twice. Swaran searches for her handkerchief and recalls that she had tied it on Arjun's hand.
Swaran meets Ajit on the terrace. She says that she has to talk to Nakul and Yug. Swaran gets a video call request from them and starts panicking. Ajit learns that both Nakul and Yug are still unaware of whatever happened to Swaran. He asks Swaran to take the call. Swaran talks to them. They asks Swaran about the new place. Swaran says that she and Bebe have come far away from Swaran Ghar for religious purpose. Nakul and Yug tells Swaran that they are missing Swaran Ghar and how much they are attached to their house. They say that Swaran must be missing Swaran Ghar more while staying away. Swaran cries in silence. The episode ends.
Click to read: