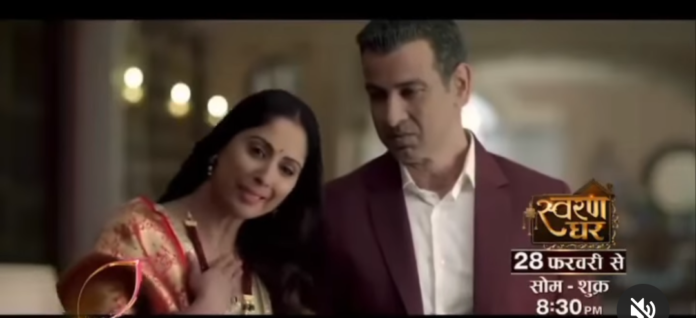 Swaran Ghar 20th June 2022 Written Update on SerialGossip.in
Today's episode starts with Swaran saying that her cream is ready. Bebe checks the cream Vikram made and says that it's not right. She orders Vikram to remake it. Swaran completes the story of Kangi Singh and Bottle Rani. Ajit gets lost while listening to her voice. Swaran stumbles and starts falling. Ajit holds Swaran and stops her and the cream for falling. Kiran records their video and plans to show it to Bebe inorder to instigate her against Swaran. Kiran gets Nimmo's call in between recording and cuts the call being pissed. Bebe learns that Kiran is not picking up the call. She blames Swaran and Nimmo's parenting.
Swaran thanks Ajit for saving her and the cream. Yug asks Swaran what if the cream fell. Swaran says that she would remade it in that case as it's not just a cream for her it's Kanwaljeet's name and respect. Swaran says that she will return to Swaran Ghar and hide the cream in outhouse. Ajit wished to accompany Swaran. Swaran says that she can go alone and asks Yug to leave for his acting audition. Nakul comes to check Vikram's cream and says that there is something wrong. Vikram asks Nakul not to give him lecture as Kanwaljeet had shared the formula with him only when Nakul was busy in USA. Kiran sends the video to Vikram. Nakul sees it in Vikram's phone.
Swaran returns Swaran Ghar. Kiran returns after her and insists Bebe to check the Video. Bebe goes to check it but Nakul snatches the phone from Kiran's hand and says that Aarav is calling her. Nakul takes her to room. Nakul maniputes Kiran by saying that Swaran making cream is beneficial for them as Vikram can never make the cream. Kiran agrees and worries if Vikram sees the video. Swaran overhears their conversation. Vikram checks his phone and see the video. Before he could approach Bebe Kiran comes there and deletes the video from his phone.
Nakul confronts Swaran. Swaran tells him that he has faith in her upbringing, Yug had returned to her. Swaran adds that Vikram will return to her oneday and Nakul has returned aswell. Aarav thinks that none plays with her. He rides a swing very close to Vikram's cream making area. The rope starts tearing, Aarav cries taking Swaran's name. Swaran sees it, rushes immediately and saves Aarav from falling on the boiling concoction. However his toy falls inside the vessel. Swaran goes to inform Vikram about his careless act. Vikram plans to blame Swaran for his miserable cream. He says that Swaran might have done something wrong with his cream.
Everyone goes there, Vikram finds the toy inside the vessel and blames Swaran for spoiling his cream. Swaran tries to explain but he doesn't let her speak. He throws away everything, cries and blames Swaran for getting Bebe's sympathy. Swaran says that Aarav was about to met with an accident but Vikram and Bebe don't pay attention to her words. Vikram says that Swaran is successful in proving his sons as worthless. Swaran says that she can't stand all these and have to reach somewhere. Swaran leaves. Swaran calls the client and informs him that she is coming to deliver the order. The episode ends.
Precap – Vikram plans to stop Swaran from delivering the order and getting all the anmount. Swaran tries to reach the venue via auto. The driver says that someone is following them. Swaran gets down and sees someone.
Click to read