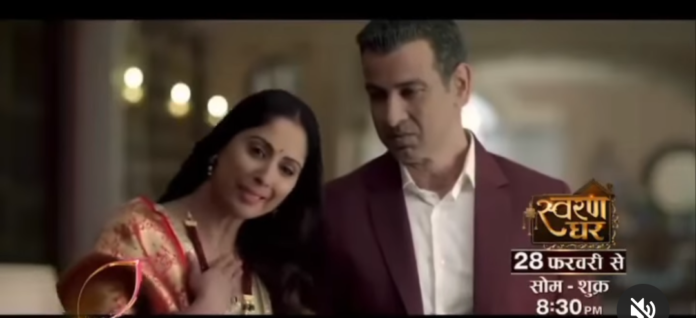 Swaran Ghar 21st September 2022 Written Update on SerialGossip.in
In today's episode, Swaran finishes making the cream and counts the bottles. She recalls her banters with Ajit. Bebe talks to Nakul and Kiran. They share their experience of attending the wedding of an aged couple at the Gurudwar. They criticize the couple for marrying at old age as it's not right. Bebe defends the couple. She applies the defective cream on her hand and asks Nakul, Kiran if them mixing duplicate ingredients in Swaran Nikhar cream was right. Kiran says that there is something called society and one must follow it's rules.
Swaran's lawyer arrives at Arjun's radio station. She meets Mallika and asks her for the official documents of Swaran's appointment as the receptionist there as she has to submit them at police station. Mallika tells her that she can't provide her any such documents as she has come without taking appointment. Arjun overhears their conversation. He tells the lawyer that he will provide her all the documents and asks her what actually happened to Swaran. The lawyer informs him about Swaran Nikhar's scam and what all Swaran faced due to her sons. Arjun gets shocked.
Later he asks Rajeshwari if she is truly happy about his and Swaran's marriage. Rajeshwari says no. Mallika comes there and gives Swaran's appointment related documents to Arjun. Arjun calls Ajit and asks him why Swaran or Ajit didn't inform him anything about Swaran's crisis. Ajit says that he also didn't know anything and learned about the matter seeing news. Arjun asks why Swaran didn't inform Ajit anything when they are childhood friends. Ajit says that Swaran is like that only.
Ajit calls Bebe and wishes to meet her urgently. Bebe asks him to come to place for the meeting. Bebe meets Ajit and informs him that it's useless to talk to Nakul, Kiran as they will not understand anything and Vikram is still missing. Ajit recalls how Jai, Divya treated him earlier that day and informs Bebe about it. Bebe suggests him to approach Swaran first and convince her for the marriage. Ajit says that Swaran will never get convinced. Bebe gets an idea. She asks Ajit to not meet Swaran or go infront of her for atleast a week so that Swaran misses his presence in her life. Ajit says it difficult, Bebe orders him to not disobey her.
Later, Ajit spots Arjun's car on the way. Arjun goes to Swaran's place and meets her. Swaran tells Arjun that she knows why Arjun has come, as he called her earlier. Arjun brings Vikram there. Flashback shows that Vikram met Arjun at his office. He requested Arjun to protect him from the police as Swaran saved Arjun's life twice in past. Flashback ends. Vikram hugs Swaran. He accepts his mistakes and asks Swaran to forgive him. Swaran calls the police and says that Vikram has accepted his mistakes. She asks police to arrest Vikram. Police puts handcuffs on Vikram's hand.
Vikram questions Swaran for her act. Swaran says that Vikram needs punishment for hiding and making his brother suffer due to his mistakes. Vikram criticizes Swaran. He says that none should have mother like Swaran, he is ashamed to call Swaran his mother. He warns that if he gets arrested today, he will not keep any relation with Swaran in future. Swaran asks Police to take Vikram with them. Police arrest Vikram and takes him out forcefully. The episode ends.
Precap – Arjun asks Swaran to contact him if she lands in any trouble in future. Swaran agrees. Ajit overhears their conversation and feels bad.
Click to read