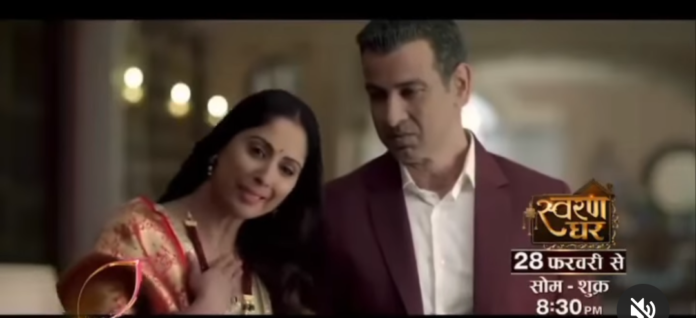 Swaran Ghar 22nd July 2022 Written Update on SerialGossip.in
The episode starts with Swaran coming home and Bebe tells there are no ingredients at home to cook food. She asks if Swaran got the job. She recalls how the girl said that Swaran is experienced but not suitable for job. Bebe feels helpless as there is nothing to eat. Swaran tells her to wait and she will arrange for everything. Swaran goes to buy flour, salt and oil but shopkeeper says he cannot give in less quantity. She is feeling helpless but buys everything is little quantity. Tujh Se Naraz nahi zindagi plays in the background as she plays on the road and remembers her past memories.
Swaran tells Bebe she will cook quickly. She makes Bebe to recall what she had made her cook on her first day and she says she will make same Ajwain Parathas. Bebe blesses Swaran and looks at her lovingly as she cooks the parathes. Bebe asks Swaran to bring for herself too or else she won't eat. Swaran brings dry chapati for herself. Ajit comes there and notices Swaran is eating dry chapati while she has given Parathas to Bebe. Swaran offers him to eat but he understands their situation and makes excuses.
Ajit tells Bebe that Swaran got him contract to cook for 100 people but left him alone. Bebe asks if he wants Swaran to help him. Ajit offers both of them to come to dhaba together. Bebe agrees and he tells them to come via auto and not to pay him. Ajit calls Sukhi and tells him to keep two plates of food ready. Ajit makes Swaran and Bebe have food which makes both of them emotional. Ajit also joins them. Arjun is informed that artist has arrived to make the sketch.
Arjun faintly remembers seeing Swaran's face when she had saved him. He tells that he wants to find her and thank her for saving him. Ajit thinks Swaran is so strong mentally inspite of all her situations. Artist tells Arjun to close his eyes and recall, he keeps describing Swaran while artist makes the picture. He explains in details about her earrings. Artist makes the picture. Ajit and Swaran are in Dhaba. Swaran sees her one earring is missing. Ajit has it but he hides it in his pocket.
Swaran looks around for the earring and looks worried so Ajit gives it to her and thinks he cannot see her worried at all. On the other hand, artist gives Arjun sketch he had drawn and thinks what more he should do to find her, the episode ends . Precap Arjun is checking a portrait and thinks about her. Swaran tells Bebe that everything has a reason for happening. Arjun thinks the one in portrait and sketch both are wearing same earring and if its an indication towards something. He thinks he can get answers only after meeting the lady ie Swaran.
Click to read: