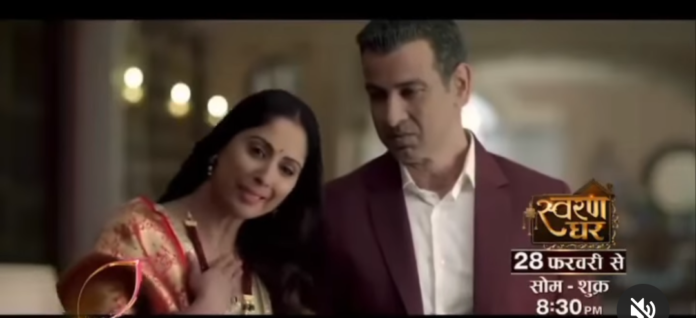 Swaran Ghar 22nd March 2022 Written Update on SerialGossip.in
The episode starts with Sharvari telling Swaran that the preist has asked for 2 to 2.5 Lac rupees minimum for the thirteenth day ritual. Swaran tells Sharvari that she will arrange the money. Vikram tells Insurance officer that he is Swaran's favourite son and he knows when Swaran's mood is good or bad. He also says Swaran has suffered a lot in past few days and she is not in her right state of mind. Swaran gets a call. Vikram says Swaran has 3 sons still she has performed Kanwaljeet's last rites all alone as she doesn't know what she is doing. He asks the officer to enquire in the neighborhood to know the truth.
Swaran comes out hurriedly, Sharvari makes her sit in car, they leave. Vikram tells the officer that Swaran can't handle insurance and all in this state and asks him for a good counselor. Swaran reaches hospital and recalls the time when Kanwaljeet was admitted there. The officer asks in neighborhood about Swaran, some ladies tell him that Swaran's mental state is not good as she got a huge shock. Ajit reaches the hospital too. Doctor Amit tells Swaran that some formalities are pending and returns her the advance of injection. Insurance officer was also told that Swaran went to a lake but was saved later. Swaran takes the check and regrets to get it back. Nimmo tells the officer that Swaran was wearing bright red colour suit during the funeral and she fears Swaran may harm herself.
Sharvari asks Swaran to get her necklace back as Kanwaljeet asked her not to remove it ever. Swaran says she will use the money for the Thirteenth day ritual. Ajit overhears them and feels bad knowing that Swaran had to keep her necklace mortgaged. Nakul and Kiran looks for Swaran in her room. Kiran recalls Nimmo's word that Swaran was wearing a precious necklace on her anniversary and being her elder daughter in law Kiran has right over that necklace and rest jewlerrys. Kiran opens the cupboard and starts searching. Vikram tells Nakul that he has influenced the insurance officer by showing Swaran as lunatic. Now they should get the insurance money. Ajit recalls Kanwaljeet's last words and says he will keep his promise, he will take care of Swaran. Nakul and Yug oppose Vikram but he convinces them.
Ajit's son and daughter in law get to know that Ajit has withdrawn 2 Lac rupees from their joint bank account. Ajit reaches Swaran Ghar and meet Swaran. He says sorry to Swaran for calling her late last night. Swaran also says sorry for cutting the call abruptly. Ajit says Swaran that if she needs anything he is there for her. Vikram, Nakul and Yug see them smiling together. Lawyer and Naina reach Swaran Ghar and tells Swaran about Kanwaljeet's will about which they have come to discuss. Vikram, Yug, Nakul get excited and come downstairs.
Ajit tries to leave but Naina asks him his full name. Vikram says no need as he is not a family member. Ajit tells his full name, Naina asks him to stay. Naina reads Kanwaljeet's letter, swaran gets emotional. Kanwaljeet has left his shawl for Neelima, Rolex watch for grand son Aarav and lucky gold ring for grand daughter Alisha. Finally he has left his account balance, fds and Swaran Ghar for Swaran. Nakul, Vikram and Yug get restless and asks Naina to read further. Naina tells that Kanwaljeet has mentioned another name in the will, that's Ajit Lamba. Everyone get shocked including Ajit himself. The episode ends.
Click to read