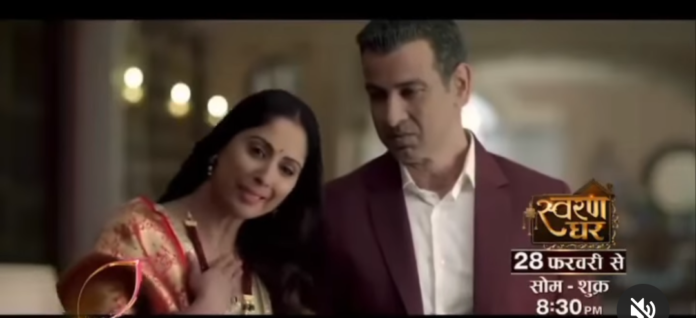 Swaran Ghar 22nd November 2022 Written Update On SerialGossip.in
In today's episode, Saroj learns about Ajit and Swaran from Balli. Balli says that he will kill them both. Saroj says that they have to make Swaran Ghar their own first of all. Swaran writes something sitting inside jail. Lady constable informs her that someone has come to meet her. Swaran goes and sees that Chandni has come wearing a burkha. Swaran asks Chandni why she has come. Chandni asks Swaran about her bag. Swaran says that she just wanted to protect Chandni. Chandni asks Swaran why she saved a thief.
Swaran praises her and calls her a good human being. Chandni tells Swaran that she didn't steal those jewlery, they belong to her mother. Her husband and mother in law snatched them from her so she took them with her and left home. Chandni also informs Swaran that she didn't tell this truth to anyone but Swaran as she didn't call her a thief like others. Chandni says that she can do anything for that bag. Swaran says that Chandni is like her only as she can do anything for her family.
Chandni asks Swaran to get the bag for her. Swaran promises her to do that. Swaran gives a letter to Chandni and asks her to read it infront of Ajit as Swaran. Chandni agrees. Swaran thanks her. Chandni goes to Jai's place. Jai asks her to stay with Ajit as he has to go to the market. Chandni sits beside Ajit and starts talking like Swaran. She reads the letter where Swaran wrote about her and Ajit's relation, destiny, their children etc. Chandni cries while uttering Swaran's words. Yug comes there and asks Chandni what she is doing there. He asks her to surrender before police so that they leave Swaran.
Chandni says that she won't go anywhere untill Swaran fulfill her promise. Ajit opens his eyes. At jail, Swaran coughs continuously and asks lady constable for water. When the constable goes to her to feed her water, she secretly takes a key from her. Chandni sees that Ajit is missing and starts looking for him. Ajit plans to kill Balli and meet Swaran. Balli talks to register over phone. He says that he will make Swaran family homeless and kill Ajit to teach lesson to Swaran. Ajit calls Balli from behind. Balli gets shocked. Swaran recalls that Chandni's bag is kept in an almirah. She comes out of lockup using the key, open the almirah and steals the bag.
Ajit questions Balli for his ill treatment towards Swaran. Balli calls Swaran his wife. Ajit, Balli start fighting and hit each other brutally. Balli picks up a brick and hits on Ajit's head from behind. Ajit falls on the ground and faints. Balli leaves. Swaran hides the bag inside lockup. Lady constable informs her about shifting to Rajasthan jail. Balli informs Saroj that he has killed Ajit. Register arrives at Swaran Ghar. Register informs them that the sign of Swaran on property papers is false so they can't get Swaran Ghar. Saroj says that Swaran has signed in front of her. Register says that they got fooled and leaves.
Jai looses his calm after knowing that Ajit is missing. Chandni asks him to not worry and leaves for Swaran Ghar to search Ajit. Saroj, Balli see Chandni's news on tv and realise that there are two Swarans. Chandni comes there. Saroj, Balli plan to play double game with Swaran, Chandni to get Swaran Ghar. Yug, Bebe blame Chandni for Swaran's arrest. Chandni hears that and plans to not help them anymore. Swaran calls Chandni to inform her about the bag. Balli picks up the call and confronts her for cheating them using her lookalike Chandni. He gives threats to harm Chandni. The episode ends.
Also See: