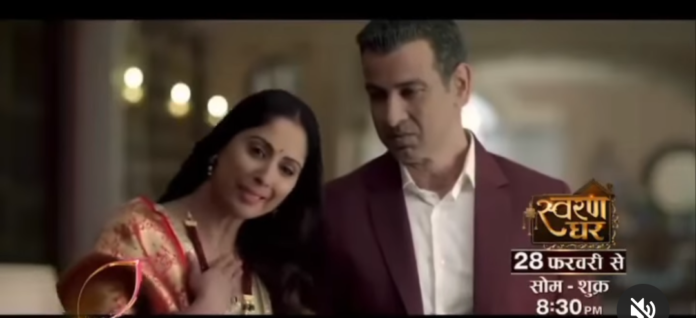 Swaran Ghar 23rd September 2022 Written Update on SerialGossip.in
In today's episode, Arjun asks Swaran to eat something as she must be hungry. Swaran refuses to eat anything. Ajit arrives at Swaran's place and meets Bebe. He says that he is worried for Swaran and has brought mitti churi for her. He tells Bebe that he may not hold importance in Swaran's life anymore. Bebe asks Ajit to not give up on Swaran and try to convince her for the marriage again and again. Ajit worries that Swaran is not there in his destiny. Bebe asks him to fight with God/destiny and prove his love. She assures him that Swaran will eventually agree for the marriage. Ajit gets convinced and leaves.
At office Swaran misses Ajit and wishes to meet him. She calls Bebe and enquires about Ajit but Bebe doesn't tell her about Ajit's arrival. Arjun, Bua try to reach Swaran's house to talk to Bebe regarding Swaran and Arjun's marriage. Arjun asks Bua if it's not too early. Bua says that today she will talk to Bebe and asks Arjun to talk to Swaran later. They reach Swaran's place and meet Bebe. On his way, Ajit realises that he has left his wallet at Swaran's place and goes back to collect it. He gets confused seeing Arjun's car but thinks that he must have come to drop Swaran. He hesitates to enter the house but enters at the end to get a glimpse of Swaran.
Bebe praises Arjun while Bua praises Swaran. Bua says that she is like Arjun's mother only. She asks Swaran's hand for Arjun and says that Arjun wants the same. Ajit gets shocked and leaves. Bebe becomes speechless. Bua says that Swaran and Arjun's match will be perfect. She hears bell ringing and calls it's God's approval. She asks for Bebe's wish. Bebe tells that she can't promise anything to them as God and Swaran's wish will be final in this matter. Swaran comes home and asks about Ajit. She gets confused seeing Arjun and Bua there. Arjun says that Bua wanted to meet Bebe so he brought her here. Bua kisses Swaran's forehead and gives her blessings. Swaran gets clueless.
Arjun, Bua gear up to leave. Arjun mentions about meeting Swaran at office tomorrow. Swaran says that it's Sunday tomorrow. Bua suggests them to meet over cup of coffees. Swaran obliges. Arjun becomes happy. Arjun, Bua leave. Swaran tells Bebe that she is planning to meet Ajit as he didn't show up after the incident at police station. She asks Bebe what she thinks about it. Bebe says that what she thinks is not important but what Swaran thinks does matter. She leaves. Swaran wonders what Bebe meant.
Ajit gets upset after realising that Arjun wants Swaran too. He recalls the time when he got heartbroken similarly when Swaran's marriage got fixed with Kanwaljeet and he had nothing to do except shedding tears. He recalls how Kanwaljeet was considered as a better match than him for Swaran. He feels that Arjun is like Kanwaljeet only as he is rich, handsome, famous, successful etc. Ajit plans to not give up like last time and approch Swaran again. Then he fears that Swaran may choose Arjun over him as she didn't called him for once. He feels that Swaran doesn't need him anymore. The episode ends.
Click to read