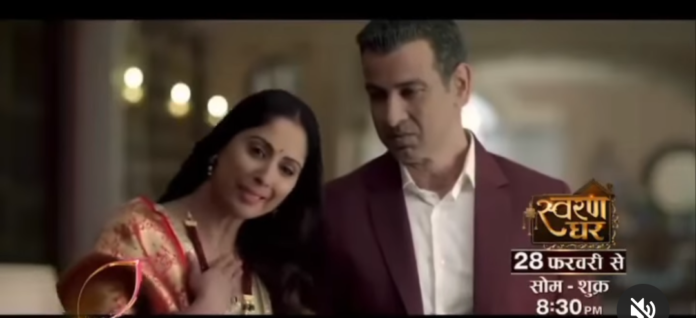 Swaran Ghar 25th July 2022 Written Update on SerialGossip.in
Today's episode starts with Swaran telling Bebe that all the works are done and asks her to take rest. Bebe asks Swaran if they have done a mistake by leaving Swaran Ghar. Swaran asks her not to worry as they will work and make things good. She assures Bebe that she will find a job. Bebe asks Swaran if her grandsons are missing Swaran like Swaran missing them. She tells that she use to think that Vikram loves her the most but it seems that he doesn't care about anyone. Swaran tells sorry to Bebe. Bebe asks her not to. Swaran gives hopes to Bebe and says that God is creating doors for them, they will succeed. Ajit wonders from where Swaran gets so much courage in this crisis situation.
Arjun checks a portrait. His sister comes to check it but he calls it official and says that this is new poster of Tanha. Arjun uncovers the portrait and sees a lady's portrait. Arjun then checks Swaran's portrait and says that both are wearing similar earrings. He wonders if it's an indication from the God, will it help him to reach somewhere or just confuse him. Arjun contacts a newspaper and asks to publish Swaran's portrait. He says to mention the person in the portrait to come and meet or anyone who will give her news will get 1 lac rupees cash.
Arjun gets determined to find Swaran. Swaran asks Newspaper vendor for job recruitment page. The vendor asks her to click a picture of the particular section. Arjun checks the photograph printed in the newspaper. Swaran clicks picture but fails to notice her own portrait.
A neighbor tries to misbehave with Swaran. Ajit comes there and beats him. He warns him to not be seen near Swaran. Ajit meets Bebe. She asks him to whom he was shouting at. Ajit replies at dogs. Ajit tells Bebe that he has brought samosa and chole for her. He asks Swaran to make tea. Kiran tells Vikram that she has a plan for marketing of Swaran Nikhar. Later she notices Swaran's portrait in the newspaper and recognises Swaran. Vikram and Nimmo see it too. They learn that Arjun Deol is searching for Swaran as she saved his life. Kiran and Nimmo tell Vikram about promoting Swaran Nikhar by RJ Tanha.
Swaran tells Bebe and Ajit about a house keeping job. They don't support Swaran. Swaran finds a suitable job at doctor's chamber. Ajit asks Swaran to give her email id so that he can make and forward her biodata. Swaran asks Ajit if he has or know about email if. Ajit says yes he has as Jai made for bank works. Swaran recalls that Yug once made an email id for her. She gives the email id and password to Ajit. She tells that she needs job immediately and goes to meet the priest of nearby temple to know about any job requirements at the locality.
Ajit wishes to give Swaran her share from yesterday's profit. Swaran denies to take it and leaves. Arjun learns that Ajit has paid the fees of the lawyer. He asks his man to fix the dates immediately. He wishes to meet Arjun. Arjun says that he is busy as he is waiting for someone. The episode ends.
Click to read: