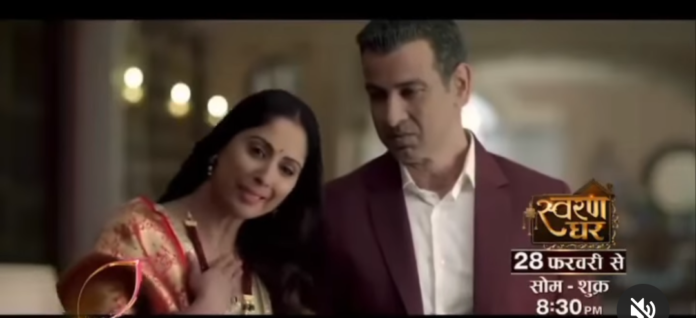 Swaran Ghar 25th March 2022 Written Update on SerialGossip.in
Today's episode starts with Swaran looking for Vikram as the havan started and Vikram needs to sit for the haavan. Kiran lies to Swaran. Vikram shows the entire Swaran Ghar to the client. Ajit comes face to face with the cilent but Vikram cleverly handles the situation and doesn't let the truth to come out before Ajit. Vikram thanks Ajit for coming. He also says sorry for that day. Ajit says its okay.
The preist asks Swaran to offer something for Kanwaljeet which was very close to his heart. Swaran goes outside of Swaran Ghar and brings a rose plant from there as Kanwaljeet use to like roses a lot, he use to place a rose in the tea tray for Swaran and today it's her turn to give him rose. Swaran takes one rose from the plant and places it Infront of Kanwaljeet's photograph. Swaran prays for Kanwaljeet's soul to attain peace in heaven.
Swaran says some words in the memory of Kanwaljeet. She thanks Kanwaljeet for giving her place in his life and giving her Swaran ghar, which he made with so much love. She says that Kanwaljeet has given her 3 fds, bank balance and 3 sons. She cries and says that she will not stay alone from now, her sons have come back to her, they promised that they will always stay with her.
Kanwaljeet's friends join Swaran in her speech. Swaran suggests that they should give farewell to Kanwaljeet in a grand way. She sings a song for Kanwaljeet. Nakul, Vikram, Yug and Aarav joins Swaran one by one. Swaran hugs them all. The lawyer comes at Swaran Ghar. Swaran informs everyone that she is going to transfer the property in her sons name. Nakul, Vikram, Yug get excited and happy hearing Swaran's words as their trick has finally worked. Swaran asks Neelu for pen. Lawyer's assistant gives Swaran Kanwaljeet's pen. Swaran sees the pen. The girl says Kanwaljeet gave her the pen on the way when he finalized the will. Swaran takes it as a sign of approval from Kanwaljeet.
She signs the property papers and handover the papers to the lawyer. Lawyer asks Ajit to sign aswell and give his consent to the process as he is the guardian of Swaran and Swaran Ghar now. Ajit goes to sign but stops as he gets doubtful. He recalls Kanwaljeet's words about his sons, what he has said to Ajit about his sons, his worries and pain. He asks for some times to think.
The client reaches the spot where the process was going on. The client asks Vikram to confirm the deal as early as possible as he needs to return. He asks Vikram to lock the deal and leave for USA. The whole conspiracy of Vikram gets unfold Infront of Swaran and Ajit eventually. Swaran recalls everything that happened previously. She realises that her sons apologizing to her, priorotising her, accepting Ajit everything was a lie. Swaran gets shell shocked seeing the real faces of her sons. The episode ends.
Click to read