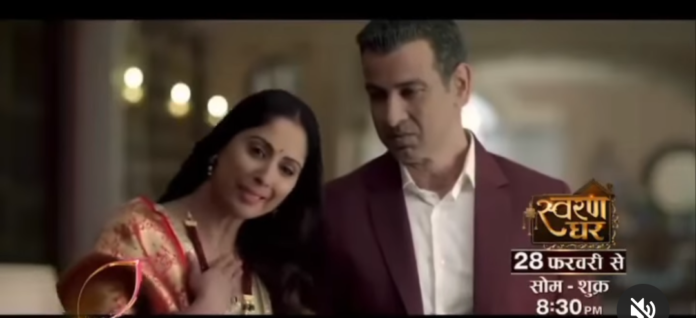 Swaran Ghar 27th July 2022 Written Update on SerialGossip.in
Today's episode starts with Swaran preparing the food. Yug gives his shot and gets praised by director. He thinks about talking to Swaran. Swaran receives Yug's call who asks her if she is fine. She tells Yug that she is fit and hit. Swaran asks him if he wants to say her something. Yug tells her that he needs 10000 rupees to pay next month's rent. Swaran asks him not to worry as she will send him the money immediately. Yug tells Swaran that he asked money from Vikram too but he didn't give as he is saving money to expand Swaran Nikhar's buisness. Swaran becomes happy after knowing that Vikram is continuing the lagacy of his father.
Vikram and Kiran talk to Mallika about the advertisement proposal. They go to meet the marketing head of the radio station. An old employee of Kanwaljeet meets Vikram and Kiran, enquires about Swaran. Vikram denies to recognise him. The employee tells the Watchman about Swaran, Kanwaljeet and what all Vikram did with Swaran etc. Arjun arrives there and listens to everything. Mrs. Gupta scolds Swaran for chit-chatting while cooking. She tells Swaran that she needs the food ready by 2 pm. Swaran realises that she doesn't know the recipe of chilli paneer. As her data is over, she thinks about calling Ajit. Ajit requests Bebe to have her medicines. Bebe says that Swaran got a job of giving tution to 3 students and Swaran won't like if she takes the medicine brought by Ajit. Ajit tells that he will call Swaran and Complain about Bebe to her.
Ajit receives Swaran's call. Swaran asks Ajit to send her the recipe of chilli paneer as she got cook's job at someone's house. Bebe hears Swaran's words that gets tears. She shares her grief with Ajit. Ajit tells Bebe that everything will be fine soon. Bebe blames herself for being burdan on Swaran. Ajit tells her that she is the support system of Swaran. Bebe asks if she should talk to Vikram as she feels that Vikram may realises his mistake oneday. Ajit tells that Bebe can do anything she wants but Swaran won't like it. Bebe says that Swaran will listen to her as she loves her a lot. Vikram and Kiran talk to the marketing head while Arjun comes in. He asks about the owner of the product and why she is not present at the meeting. Vikram and Kiran give two contradictory answers but Vikram manages the situation.
He receives Bebe's call but cuts it. Arjun asks him to receive the call. Vikram takes the call and asks Bebe not to bother him anymore. Arjun tells that they will held the meeting when the owner of the brand will be present and leaves. Bebe cries thinking about Vikram's behaviour and worries about the treatment Swaran must be getting as a cook. Swaran finishes preparing the dishes. Mrs. Gupta asks her to serve the food. Swaran learns about babysitter's job from a guest and finds it suitable for herself.
Nimmo arrives in the party. Swaran and Nimmo see each other. Swaran serves her juice. Nimmo tells that she knows Swaran as she use to work in parlour of her locality. All the guests praise Swaran's dishes. Everyone dance and sing in the party. Swaran sings along. A guest praises Swaran's multi talented personality. Nimmo decides to teach Swaran a lesson. She lies that chilli paneer has stones. Mrs. Gupta questions Swaran. Nimmo spits the food on Swaran's hand. Swaran feels disgusted. The episode ends.
Click to read: