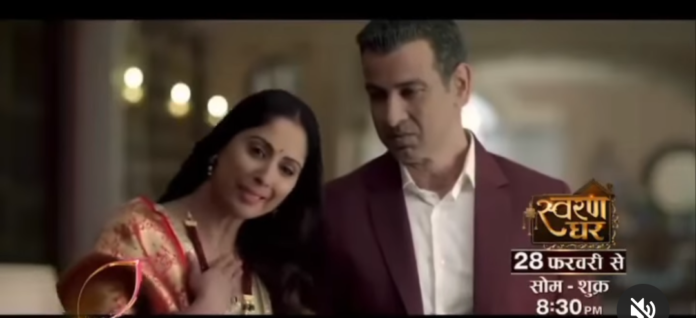 Swaran Ghar 27th May 2022 Written Update on SerialGossip.in
Today's episode starts with Divya crying for Ajit as only one hour left still Ajit didn't respond. Ankita says that they have tried every possible things, even showed Dillu's video but nothing worked. Divya tries to wake Ajit with her voice but nothing happened. Ambar disguises herself as nurse and enters Ajit's cabin. She asks Divya to leave. Divya leaves after getting her husband's call. Ambar shuts the door. She fixes the earphones in Ajit's ears and make him hear the voice note that Swaran recorded earlier. Ambar goes to start the recording but Divya comes in. Ambar lies that doctor is calling Divya and sends her outside.
Ambar makes Ajit hear Swaran's voice where Swaran asks Ajit to wake up. Swaran rings bell to wake Ajit up like childhood. She says that one sleeps like this in old age and asks if Ajit thinks himself aged. She tells Ajit that she has many more fights left with him. She also says that she can afford everything but can't afford to lose his friend. She shares the Kada incident with Ajit. Ajit starts responding, opens his eyes and takes Swaran's name. Divya comes in. Ambar asks her to inform others. Ambar clicks Ajit's photo and leaves.
Neelu informs the same to Swaran. Swaran thanks God and says that she will go to gurudwar before going to hospital. Swaran decides to untie the knot in her duppata the day when she will see him safe and sound before her eyes. Ashu meets Ambar, says her love you and sorry. He asks for Ambar's phone to call Kiran. Ambar gives him her phone. Ashu points at Swaran and asks Ambar to attend her. Ashu secretly sends Swaran's voice to Kiran from Ambar's phone. Swaran thanks almighty for listening to her prayers for Ajit.
Swaran spots Yug sitting beside her. She informs him about Ajit. Yug asks Swaran about herself. Yug says how Swaran panicked yesterday, she might gone through the same during Kanwaljeet's time, she might felt equally helpless when her three sons didn't pick her calls. Yug cries, kisses Swaran's hand and says her sorry. Yug says that yesterday he felt that Swaran and Ajit are really close to each other. Like Swaran he also didn't like how Ajit acted as Kanwaljeet yesterday. Yug asks Swaran who is Ajit. Swaran replies ' childhood friend ', who grew up, played, fought, did everything together. Swaran says that she will tell everything truthfully to Yug.
Nakul rebukes Vikram for his conspiracy against Ajit. Nakul says that Vikram could go to jail if anything happened to Ajit. Nakul hits Vikram. Vikram gets agitated as Nakul compares him to murderers. Mickey comes in and treats Nakul's wound. She says that Nakul is venting his frustration and asks him to inform about his job to Kiran. Nakul inquiries about Swaran. Mickey says that she is fine. Nakul thanks Mickey for the bandage. Swaran tells Yug how she use to put bandage on Ajit's wounds using her duppata, how Ajit use to make Swaran laugh, how they use to stand by each other, how she use to help Ajit in home science classes. Swaran says that they were true friends and Kanwaljeet knew everything about them.
Divya feeds gulab jamun to Ajit to stop Ankita from feeding Swaran's prasad to him. Ajit enquires about his employees and Swaran. Yug asks Swaran if Ajit can take Kanwaljeet's place. Swaran says Never. Yug feels at ease, Swaran hugs him. Yug asks for sorry and gulab jamun from Swaran. Swaran smiles and hugs him. Yug promises that he won't let anything bad happen to Swaran. Ajit asks Jai if Swaran came at hospital. Ajit says that he felt like hearing Swaran's voice and asks who sent the prasad. Nurse informs Ajit's family that his condition is getting worse. Swaran feels uneasy and worries for Ajit. She prays to God for him. Doctor says that Ajit's heartbeat is sinking, they have to shift him. Swaran walks barefoot in baheguru's procession. Ajit is being shifted. Swaran prays for Ajit and faints on the road. Swaran is taken to Ajit's ambulance. Swaran is being laid beside Ajit. Swaran's dupatta touches Ajit. Nurse says that Ajit's heartbeat becomes stable suddenly. The episode ends.
Click to read