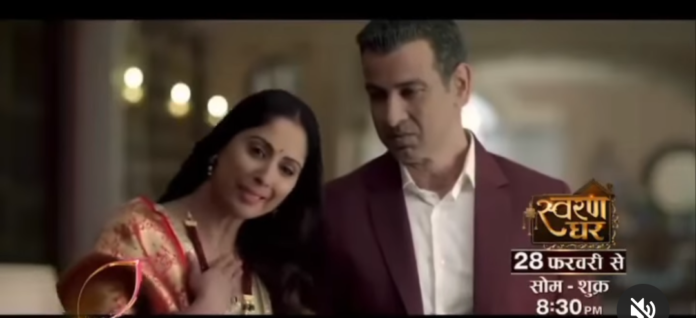 Swaran Ghar 28th February 2022 Written Update on SerialGossip.in
Swaran cries and pours water in fire. She remembers memories from few days earlier where she puts money in piggy bank which has Nakul's name written on it, she states that it's Nakul's 27th Birthday. There are two more piggy banks with 2 more names written on it. Flashback shows a happy Swaran with her three children Nakul, Vikram and Yug. They argue with each others for their mother swaran's attention where Nakul claims that his mother loves him the most among all brothers as he will fulfill her dreams in future. Swaran smiles remembering those happy days when a lady enters the room. In their conversation that lady mentions that swaran should change her back dated mobile phone instead of putting money in the piggy banks for her grown up sons. Hearing her, swaran says that she doesn't require a new mobile phone as her phone is for 2 purposes only, to call her sons and to pickup the calls of her sons. On the other hand, Kawal serves two cups tea on a tray & put a red rose along with it. He praises Swaran's beauty but complains about her wearing a very dull colour suit. Swaran tells him that she is wearing this as it's Nakul's favourite colour. Kawal gets disturbed on recieving calls from an unknown number.
While crossing a room Kawal remembers memories from his sons' childhood, how he use to suprise his son Nakul wearing a Super hero type outfit and calling himself Power Man on a birthday like this. He use to measure and note down the heights of his sons on the walls. He gets emotional seeing the measurements are still there on the wall. Swaran & Kawal reaches Gurudwar, while Kawal says someone on the call that they only have one FD remaining, on the other hand Swaran recieves a call from Yug. Yug tells Swaran that he has a meeting with a big producer lined up but he needs 5 Lac rupees urgently. Swaran reassures him that she will talk with Kawal and arrange
the money for him somehow. Later Swaran tells Kawal about her conversation with Yug but Kawal refuse to give away the ammount as they have only one FD remaining. Swaran tells him that she doesn't need FD when Kawal already gave him 3 Golden Fds in form of their sons. Kawal half-heartedly agrees at the end for making Swaran happy only.
Swaran and Kawal gears up to celebrate Nakul's Birthday, they decorates the wall with Happy Birthday Nakul Write up, flowers, balloons, delicious dishes. Swaran video calls Nakul who lives in America and wish him Happy Birthday, a sleepy Nakul gets disturbed seeing her mom on video call. He bluntly tells her not to do video call without informing him beforehand and cuts the call. Swaran gets teary eyed after seeing Nakul's behaviour. However Kawal tries to cheer her up and ask her to go to her kitty party. On the other hand Nakul gets happy and cozy with her girlfriend. Who insist him to talk to her mom on video call. Nakul thank her mom even before her wishing him happy birthday.
Swaran reaches the hall of kitty party where everyone welcome her saying that she is the Centre of Attraction. They compliment her saying that Swaran still looks so young and none can guess that she has 3 Adult Sons. The ladies also remind her about Nakul's Birthday and how he use to stick with her mom all the time in his childhood. They brings cake to celebrate Nakul's Birthday with Swaran. Swaran makes a wish for Nakul that he may get very long live. On the other hand Nakul goes for his birthday party with his girlfriend and friends. There he recieves a call and comes out of the party venue being distributed. Suddenly a car comes from the another side of the road and knocks him down. The episode ends.