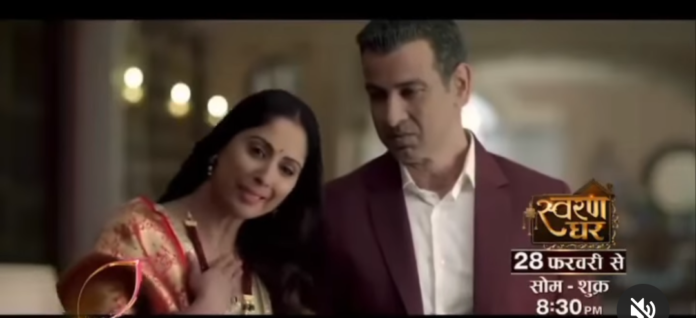 Swaran Ghar 2nd August 2022 Written Update on SerialGossip.in
Today's episode starts with Bebe waking up in the morning and realises that Swaran was sitting beside her whole night. Swaran wakes up hearing her voice. She checks Bebe and gets relieved realising that Bebe's fever is gone. Swaran thanks God for Bebe's recovery and prays to get a job. Swaran receives a call from a travel agency and gets informed that she is appointed as receptionist for which she applied earlier.
Swaran gets happy and thinks about calling Ajit. Ajit appears Infront of her. Swaran informs him what happened last night. Ajit apologies to Swaran for his inappropriate words the previous day. He says sorry. Swaran says that she is sorry too. She adds that Ajit was not really wrong. Swaran informs Ajit about her new job. Ajit becomes happy.
Bebe hears their conversation and learns about Swaran's job. Swaran tells Bebe that she has to join today and will get a handsome salary of 20000 per month. Swaran says that its Gurupurab so she will go to Gurudwar and she also hopes to meet Aarav there as she asked Aarav to visit Gurudwar on Gurupurab. Rajeshwari calls Arjun as he gets ready to go to Gurudwar for the same occasion. Arjun checks Swaran's portrait and hopes to find her soon. He gets a call and keeps the portrait in the drawer.
Rajeshwari comes there and finds the portrait of another lady in the drawer. She says that the person in the portrait gave immense pain to her brother but her brother still could not forget her. She throws the portrait in the drawer again. Arjun recieves a news on phone, he calls Mallika and asks her to broadcast a news that a gang of four kidnappers are kidnapping little children. The same kidnapper gang waits outside Swaran Ghar and targets Aarav. Aarav gears up to go to Gurudwar with Vikram. He hopes to meet his D there. Aarav and Vikram leave for the Gurudwar.
Swaran and Ajit reach the Gurudwar. Swaran informs Ajit about the incident of waterlogging, how much she was in distress and how Ajit's message gave her strength and motivation. Swaran asks Ajit to not leave her ever, she asks him to scold her, reprimand her but not to leave her side. Ajit promises to not leave Swaran ever.
Arjun arrives at the Gurudwar and collides with Ajit. Arjun's handkerchief falls on ground which Swaran tied on his hand earlier. Ajit shows it to Arjun. Arjun picks it up and thanks Ajit. Ajit asks Swaran if he can take her shoes. Swaran says yes. Ajit leaves.
Swaran tells Kanwaljeet that she is surviving without him. She thanks him for bringing back her friend in her life. Arjun meets Ajit again when Ajit cleans Swaran's shoes. Ajit says that whose shoes we clean gets long life. Arjun says that he will clean his sister's shoes as she is his life. Ajit suggests him to clean his own shoes too. Swaran, Ajit and Arjun pray at the Gurudwar together.
Ajit prays so that he can support Swaran always. Swaran prays God to be with her always. Arjun prays to meet Swaran soon. He hears the sound of Swaran's earring and turns to Swaran's side. The episode ends.
Click to read: