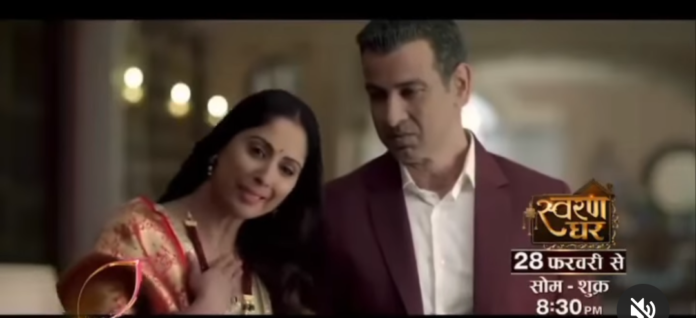 Swaran Ghar 2nd March 2022 Written Update on SerialGossip.in
The episode starts with Swaran in disbelief after hearing about Kanwaljeet's brain stroke. She tells the doctor that he is mistaken and talking about some other patient but not Kanwaljeet. Doctor asks if Swaran has any other family member with her. Her friend tells that Swaran has 3 Sons, two of them are in America and one in Bombay. Doctor informs Swaran that it's a good news that Kanwal is safe now, but situation could be be different if there was bit delay.
Vikram tells Kiran that as she knows he can't go to India as things are not going well with his job. Kiran says that he has to go if Nakul gets to know about the phone calls, he will ask Vikram and Kiran to leave for India. And if Nakul and Kiran go to India without Vikram then Swaran and Kamal will complain about Vikram for being a careless son. Vikram asks her about exact issue with his father. Kiran says it must be some gastic issue as such things are very common in old ages.
Kanwaljeet lies in the ICU bed, Doctors treat him, Swaran sees him through the glass window. Vikram wonders why his mother has not called him or Nakul yet. He tries to call swaran but his phone battery is out of charge. He asks Kiran to let him use her phone but she lies about her phone having no battery. Vikram asks why Swaran hasn't called Kiran. She says it's pretty normal as she doesn't like Kiran. He asks Vikram to call Swaran from his own phone as Nakul phone is with Kiran. If Vikram calls from Nakul's phone Swaran will asks many unnecessary questions. She asks Vikram to handle the situation.
‌Swaran tells doctor that she wish to take Kanwaljeet home, but doctor refuses. He says that Kanwal can't be taken to home as he needs to undergo a surgery. Swaran strata panicking but doctor tries to make her understand that surgery is important to avoid damages otherwise Kanwal can become paralyzed. Nurse asks Kiran about their insurance company but clueless Swaran says all these are handled by Kanwal only. Nurse asks her to fill the consent form first. She also ask Swaran to submit 2 lac initial money to start the surgery. Maid reminds her about the ATM card in her bad. Swaran never uses it still starts searching for the ATM desperately. Being clueless she enters her birthday, kanwal's birthday, their anniversary date as ATM PINs but all appear incorrect. Swaran collides with someone and the cufflings fell on the floor. Swaran tries desperately to find it. She says her friend that their anniversary is after 4 days and they have a planned a lot for it.
Swaran realises that they has broken their last FD to give Yug money. She calls Yug who being busy doesn't listen to Swaran words properly. Swaran friend wish to submit the money but she refuses to take it, tries to inform Yug. Yug thanks Swaran for giving him the money and cuts the call without listening Swaran. Swaran feels helpless even after having 3 Sons. She wonders why none of her sons called her yet. In Mumbai, thiefs try to snatch Yug's bag and he starts running to save it. Vikram sees numerous miss calls from Swaran but chose not to call back in order to avoid returning to India otherwise he gonna lose job. Swaran cries helplessly. On the other hand goons snatch Yug's bag and beat him badly. As the goons beats Yug , Kanwal starts responding in the hospital.
Swaran prays to God. Doctor informs Swaran that Kanwaljeet's below waist portion is paralyzed now due to stroke. Doctor says only a injection can cure Kanwal fully which is available in USA. He needs it with in 7 to 10 days. As Vikram and Nakul lives in New York, Swaran feels relieved and tries to call them. Nakul video calls Swaran and asks about the situation. Kiran interupts them and pretends to be innocent. Swaran gets to know about Nakul's accident but Nakul pacifies her saying he is alright now.
Swaran tells Nakul about Kanwal's stroke and that he can't walk now. She also informs about the injection on which Nakul says to send him details of his reports and the injection. Swaran wish to treat Kanwal in America, Nakul agrees with her. He mentions about sending tickets and consulting with his doctor friend. Kiran looks annoyed hearing their conversation. Nakul asks Swaran no to worry as he is there for his father. Swaran blesses him and wish him happy birthday again. Swaran cries seeing unconscious Kanwal. Maid asks her to be strong. Kanwaljeet calls Swaran's name and ask her why she looks miserable. Swaran cries and informs him about his brain stroke. She also says that Kanwal can't walk or move from now.
Click to read