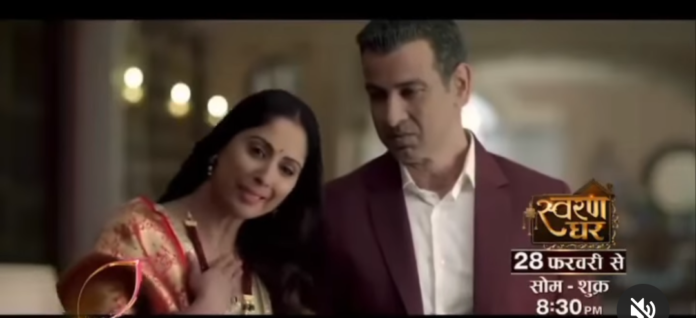 Swaran Ghar 4th October 2022 Written Update on SerialGossip.in
In today's episode, Arjun welcomes Swaran as RJ Tanha and asks her to share her experience with the listeners. It may encourage others to express their feelings aswell. Swaran becomes defensive. Arjun gives her a name ' RJ Arzu ' and asks her to follow his instructions.
Swaran starts talking. Arjun asks her to speak her heart out. Ajit hears the show and recognises Swaran's voice. Swaran talks about how we complicate things in life which were quite simple in our early life. She says that she has fallen in love at old age. Though she already confessed her feelings to herself but she still wants to tell it to the world.
Ajit thinks that Swaran will talk about her feelings for Arjun and switches off the radio. Arjun praises Swaran's hosting. A listener wishes to talk to RJ Arzu and thanks her for giving her courage she was missing. Arjun encourages Swaran to talk to the listener as RJ Arzu.
Ajit tells Jai and Ankita that he will leave for Delhi next morning. Ankita asks Jai why he is sending Ajit to Delhi. Jai says that Ajit is not okay. He may feel better if he go to somewhere else. Next morning, Swaran wakes up from sleep and worries for Ajit. Swaran drops Swaran Ghar's papers along with some newspapers.
Bebe notices it. She pretends to have cramp in waist so that Swaran doesn't notice the papers. She wonders how to tell Swaran that her children kept Swaran Ghar mortgaged. Bebe goes to tell Swaran about Arjun's proposal but Swaran gets a call from Vikram's daughter Anisha. Anisha cries and enquires about Vikram.
Swaran tells her that Vikram is busy but she will make him talk to her. Swaran thinks that she has to arrange Vikram's bail. Arjun arrives there and meets Swaran and Bebe. Swaran tells him about Anisha and Vikram's bell. Ajit calls Bebe that time. Arjun tells Swaran to not worry as he will handle Vikram's matter. Ajit hears their conversation. Arjun leaves.
Bebe asks Ajit to speak out. Ajit says that he has nothing left to say. He thanks Bebe for supporting him always and cuts the call. He packs his luggage. Swaran and Arjun arrange Vikram's bail. He comes out of the jail and gears up to leave without talking to Swaran. Swaran asks him to talk to Anisha as she was crying for her father. Arjun criticizes Vikram. Swaran says that she has to talk to Ajit. Arjun asks her to go ahead. Swaran calls Ajit but Dillu picks up the call.
He informs Swaran that Ajit has left for Delhi and kept his phone at home. He also informs Swaran that Ajit's bus is at 11.30 am. Swaran starts panicking and shares the matter with Arjun. Arjun says that they still have 15 minutes in hand and go to stop Ajit. They reach the bus stop and search for Ajit. Swaran learns that Ajit's bus has already left. The episode ends.
In today's episode, the tractor drivers beat Ajit as he denies to move aside from their way. He delibaretly instigates them to beat him more. Ajit remembers Swaran and Arjun's hug and doesn't raise his hands to beat the men back. Swaran runs on the road to reach Ajit, she recalls Arjun's words. Ajit gets beaten up badly. On the other hand, Arjun sheds tears, he throws away and burns stuffs in his room. Swaran fails to spot Ajit. Ajit returns home, Jai gets shocked seeing him. Ajit goes to his room without answering his questions.
Rajeshwari tries to stop Arjun. Arjun says that he is burning himself. He throws the ring in the fire and informs her that Swaran loves Ajit not him. Swaran arrives at Ajit's house and wishes to meet him. Jai informs Ajit about the same. Ajit says that he doesn't want to meet anyone, he wants to live alone. Rajeswari says that she is not shocked. Arjun tells her that she must be happy as she was never happy about the alliance. Jai lies to Swaran and tells her that Ajit is not at home. Swaran leaves from there. Nakul says sorry to Vikram over phone for not being able to release him from jai. He informs Vikram about the cramp in his waist.
Vikram doesn't believe Nakul and says that he is giving excuses only. He cuts the call in anger. He eats the food Swaran gave him and says that he won't forget anything, he will destroy Swaran when he will come out of jail. Bebe asks Swaran about her coffee date. Swaran says that they have discussed work related matters only. At his room, Ajit applies oinment on his wounds and beats himself up for getting rejection from Swaran. Bebe wonders whether she should inform Swaran about Arjun's proposal. Swaran informs her that she could not meet Ajit at his dhaba and house. Bebe asks her why she wants to meet him.
Click to read