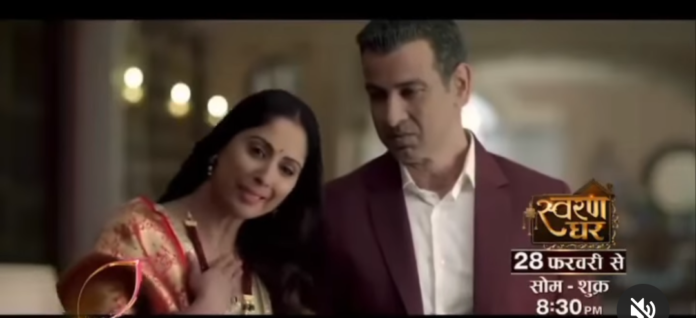 Swaran Ghar 7th June 2022 Written Update on SerialGossip.in
Today's episode starts with Bebe taking out all the Colourful clothes of Swaran. Swaran pleads her not to as it will give pain to Kanwaljeet's soul. Bebe asks Swaran not to take Kanwaljeet's name. She pushes away Swaran, put kerosene on the clothes and burns them. Swaran recalls Kanwaljeet's words and cries. Bebe says that she is taking pledge that she will make Swaran Ghar like before. Bebe calls Swaran a widow and says that hereafter Swaran will live like a widow at Swaran Ghar. She adds that everyone will return to Swaran Ghar whom Swaran kicked out. Bebe takes away Swaran's colorful duppata and burns it too. Swaran says that she use to wear all these colourful clothes for Kanwaljeet. Bebe tears the white curtain and throws it on Swaran.
Yug tells Bebe that she is doing wrong with Swaran. He asks Nakul and Vikram how Kanwaljeet will feel after seeing Swaran in White clothes. Vikram says that Swaran did wrong by not letting them see Kanwaljeet's funeral. Yug says that Swaran has called them numerous times but none of them were there for her when she needed them the most. Ajit, Ambar, Nehmat waits outside Swaran Ghar. Ambar asks if they should leave Swaran Ghar. Ajit asks them not to do like Swaran's sons. He says only Yug and Neelima are inside to support Swaran and asks who will handle Swaran if all of them leaves. Yug blames Vikram and says that Vikram only mind his profit, he doesn't care about him, Nakul, Bebe or Swaran. Vikram looses his calm and fights with Yug. Swaran asks them to stop.
Bebe blames Swaran for the fight. She asks Swaran who is Ajit Lamba. Swaran says 'friend'. Bebe says that Swaran's heart is not clear that's why her answer is not clear. Bebe asks Yug to call Ajit. Vikram asks her not to involve Ajit in their family matter. Bebe asks Yug to call and put phone on speaker. Yug obeys her order. Ajit asks Bebe if everything and Swaran is fine. Yug says yes and asks Ajit to come to Swaran Ghar. Ajit asks Nehmat, Ambar to wait and goes inside. Swaran requests Bebe to do whatever she wants later as her health is not good and asks her to go with her. Bebe says that she won't go until all the colours vanishes from Swaran's life.
Ajit comes inside and gets shocked seeing Swaran. Bebe calls Swaran as Kanwaljeet's window Infront of Ajit. Bebe says that Swaran wears white or dull colours, remembers her husband and her memories. Ajit tells Bebe that Kanwaljeet wanted colour in Swaran's life. Swaran's duppata catches fire. Ajit and Yug stops it. Swaran wears the dupatta again. Ajit tells Bebe how much Swaran obeys her to wear the burnt dupatta. Bebe says that in that case Swaran had left wearing colours, stopped smiling. Ajit says that whatever wrong happened in Swaran Ghar it was because of her grandsons. Vikram asks Ajit to leave. Ajit says that he won't leave without telling the truth.
Ajit says that Kanwaljeet celebrated his 30th anniversary in a grand way Infront of him and everyone. He adds that he had seen rare love, admiration, respect between Swaran and Kanwaljeet but Kanwaljeet died the next day. He praises Kanwaljeet for his warm behaviour towards everyone and him. Vikram tries to interfere. Ajit says that he was nowhere when Kanwaljeet got attack, didn't receive Swaran's call when she needed him the most, didn't had a single year for Kanwaljeet. He says that Kanwaljeet breathes his last before him, he shared his grief with him. He said that his sons are worthless, won't take care of Swaran after his death. He adds that Yug has realised his mistakes by now.
Ajit says Vikram that none should have son like him. Swaran asks Ajit not to curse her sons. Ajit asks Bebe to see how much Swaran care for her sons. Swaran asks Ajit to stop and leave. Yug says that Ajit is right. Yug says that Swaran always respected Kanwaljeet, even restarted his business and Swaran has no fault. Bebe asks Nakul about Kanwaljeet's last words to them, if he was sad. Nakul says yes. Vikram says that Kanwaljeet was upset because of Swaran. He showed Swaran and Ajit's photograph to Bebe and says that they got married before Swaran and Kanwaljeet's marriage. The episode ends.
Click to read