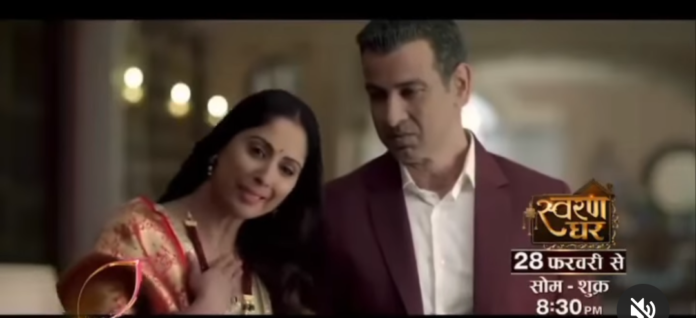 Swaran Ghar 8th June 2022 Written Update on SerialGossip.in
Today's episode starts with Vikram claming that Kanwaljeet might got attack after seeing the photograph, he might died after learning Swaran's truth. Bebe faints. Kiran tells Nimmo that she is upset with Vikram for revealing the photograph as it was pre decided that they will reveal the photograph during trials.
Nimmo says that Vikram has handled the situation well and stopped Nakul from speaking the truth. Nimmo adds that now everyone knows about the photograph, none can deny anything and it doesn't matter if Bebe dies. Vikram comes there, hears the conversation and questions them. Kiran tells Vikram that Nimmo was taking about Bebe's problem. Kiran asks about Bebe's condition.
Vikram gets doctor's call. Kiran tells Nimmo that Vikram is too much inclined towards Bebe. Nimmo discuss with Kiran about taking the neighbors in their side. Nakul lashed out at Kiran for doing planning plotting in such condition. Kiran calls Nakul jobless and says that she is concerned about Aarav's future unless Nakul. She reminds him again about his options of Swaran or Aarav.
Swaran takes care of Bebe. Doctor says it was shock and panic attack, not heart attack but she needs proper care. Swaran tells Bebe that it was a childhood photograph from ramleela where she acted as Sita and Ajit acted as Ram. Nimmo and Vikram ask Swaran to stop lying. Swaran tells Vikram that he has changed for real and asks him what else he will do for money. Vikram tells Swaran that Bebe got attack for her and he has an eyewitness who will prove that the picture is from Swaran and Ajit's marriage.
Swaran asks him with how much money Swaran has bought the eye witness. Vikram calls Swaran shameless. Swaran slaps Vikram. Bebe wakes up and questions Swaran for slapping Vikram. She asks Swaran if Kanwaljeet wanted her to slap her sons aswell. She asks Ajit if Kanwaljeet will like to see the ill-treatment towards his sons or Swaran creating scenes. Bebe stands up with the help of Vikram.
Swaran says that Swaran Ghar is incomplete without Bebe. Bebe says Swaran Ghar is wrong, she will make it correct. Bebe goes outside. She takes mud from a pot, goes near Swaran Ghar's board and applies on Swaran Ghar. She tells it's no more Swaran's house and asks Swaran to leave with her daughters.
Ajit says that Kanwaljeet must be in pain seeing these. Bebe asks Ajit to keep quiet. Ajit says that he has given words to Kanwaljeet so he has to speak. Vikram says if Kanwaljeet was here he might have throw away the board seeing their marriage photograph. Ajit tells Vikram that marriage is no joke atleast for him and Swaran. Yug asks Bebe to take her stand back and not remove the girls. Bebe says nothing will change now and goes to close the gate for Swaran, Ajit and girls. Swaran stops the gate from getting closed.
Swaran tells Bebe that she has promised to leave Swaran Ghar after death and she can't break it so she won't go anywhere. Yug tells Bebe that she can't do this with Swaran. Vikram asks Yug not to insult Bebe, Yug says that he is only protecting his mother's respect. Vikram says that Swaran might have offered Yug to include his name in will to make the brothers go against eachother.
Yug says that he is not money minded like Vikram, he trust his mother. Vikram says that she is her mother too. Vikram and Yug start fighting. Swaran gets pushed. Mickey comes forward and slaps Vikram. She questions Vikram for raising hands on their mother. She says that they are fortunate to have Swaran as their mother and pushes Vikram away. Bebe blames Swaran for everything. Bebe asks forgiveness on behalf of Mickey and asks her for a chance to prove her and Ajit's innocence for the sake of Kanwaljeet.
Bebe grants permission. Ajit says it was for Ramleela only. Vikram says that he has eyewitness to prove the marriage. Nakul says Vikram is right. Swaran says that she won't leave Swaran Ghar until she prove herself innocent. Bebe gets convinced but says that Swaran's daughters have to leave the house. The episode ends.
Click to read