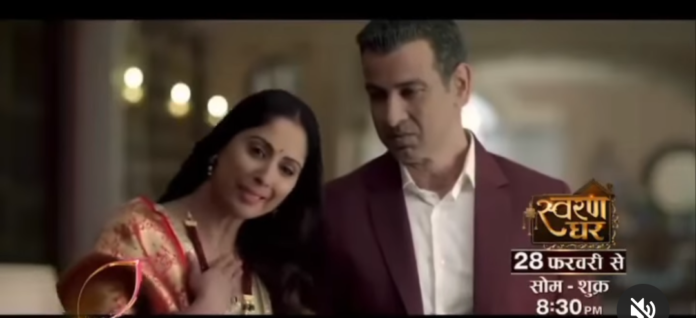 Swaran Ghar 8th March 2022 Written Update on SerialGossip.in
The episode starts with Vikram tells Swaran that they have no other option left other than selling Swaran Ghar. He also asks her not to worry as they will treat Kanwaljeet by the best doctors in Chandigarh. Swaran tries to say that Nakul will send Air Tickets but Vikram shuts her up saying that she doesn't know about Vikram and Nakul's financial crisis also the injection they need for Kanwaljeet will cost around 20 Lac rupees. Swaran mentions about Kanwaljeet but Vikram says if anything happens to their father Swaran will be responsible for it as the property agent left because of her.
Swaran asks him not to send Air Tickets but the injection only. She also says that she won't ask for anything else in her entire life. Vikram tells her to sell Swaran Ghar and buy 50 injections. Swaran disagrees and plead for the injection. Vikram doesn't listen to her and cut the call. Swaran feels helpless, cries remembering past incidents and Vikram's words. She falls on floor. Parlour girl comes there and shocks her. Swaran tries to leave the room but the girl tells her that Kanwaljeet will not like to see her in such condition. Swaran agrees and sits Infront of the mirror. The girl does her touch up.
Kanwaljeet signs some paper and give the lawyer. Swaran thinks in her mind that everything will be alright and she won't let Kanwaljeet know all these. Nakul scolds Vikram for misbehaving with Swaran on her Anniversary day. Vikram says he can't give Swaran false hopes like Nakul. Nakul doesn't have money to send Air Tickets or buy the injection. Vikram tells that he already sent a wheelchair for Kanwaljeet and property agent to sell Swaran Ghar. Nakul gets annoyed with Vikram for not discussing with him about selling the house. Kiran asks Vikram if there is any other alternative of the injection. Vikram says that injection is the only solution for this problem. Kiran also tells Vikram that he must have some savings. Vikram says that he already booked car last month like Nakul and Kiran booked Disney Cruze. Kiran tries to convince Nakul to sell the house as they have no other options left.
Nakul keeps objecting Vikram's plan of selling the house. Vikram gets irritated, tells Nakul to put all blames on him and remain as the ideal son of Swaran and Kanwaljeet. He also says that Nakul does all these to be in good books of their parents so that he can get their whole property. Nakul gets pissed and slaps Vikram. Kanwaljeet coughs, Swaran stumbles but someone holds her. Swaran sees Ajit, her best friend. Swaran remembers her childhood memories with him. Kanwaljeet says that he is really happy to see him and thanks him for coming. Ajit thanks Kanwaljeet for calling him at their place. He wishes Kanwaljeet for speedy recovery and happy Anniversary. Swaran wonders why Kanwaljeet called Ajit. Ajit refers Swaran as ' Aap' and gives her the gift he brought. Kiran says sorry to Vikram. Vikram says Nakul that he is done and asks him to get lost. Nakul leaves with Kiran.
Kanwaljeet starts giving a speech addressing all the guests. He thanks all the guests to stand by him and Swaran through thick and thin. He mentions that real insurance of a person is the friendships he earns in life. He specially mentions Mr. Chadda and Swaran's kitty party's friends. Nimmo complains for not mentioning her. Kanwaljeet taunts her indirectly. Kanwaljeet gifts Swaran a beautiful costly looking necklace and makes her wear it. Nimmo takes pictures. Swaran smiles with tears in eyes.
Kanwaljeet says Swaran that she is looking beautiful, asks her not to remove the necklace. He kisses in her cheek. They wish each other happy anniversary. They cut the anniversary cake and feed each other. Ajit looks at their family picture and stares at Swaran. He remembers their childhood memories. Swaran sees him and comes to him. Ajit says that he is really happy after seeing Swaran so happy and her Swaran Ghar. He identifies Nakul, Vikram and Yug from the photograph. Kanwaljeet comes there and sees them together.
Click to read