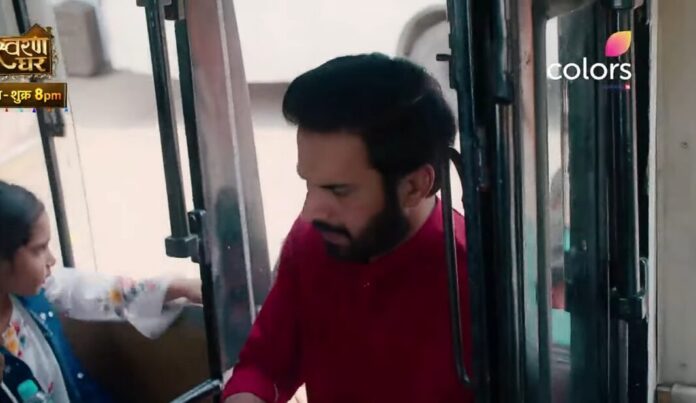 || Swaran Ghar Spoilers, Upcoming Story, Latest Gossip , Future Story, Latest News and Upcoming Twist on SerialGossip.in
Swaran Ghar depicts the emotional turmoil and rollercoaster journey of an aged widow mother Swaran on ColorsTV and voot app. Currently we are seeing that Swaran hosts show with Arjun as RJ Tanha. Ajit misunderstands Swaran. He leaves for Delhi. Swaran, Arjun try to stop him.
In the previous episode, Arjun encouraged Swaran to talk in his show as RJ Tanha. Swaran spoke her heart out. Ajit listened that show but misunderstood her. Bebe hided Swaran Ghar's papers from Swaran.
Anisha called Swaran and enquired about Vikram. Swaran heard her crying and comforted her. She decided to arrange Vikram's bail. Arjun arrived there.
Swaran shared the matter with him. Meanwhile Ajit called Bebe and overheard Swaran and Arjun's conversation. He thanked Bebe for supporting him always and cut the call. He left for Delhi.
Swaran and Arjun arranged Vikram's bail. Vikram avoided Swaran. She asked him to talk to Anisha. Swaran called Ajit but Dillu picked up the call. He informed her that Ajit was leaving for Delhi via bus of 11.30 am.
Swaran started panicking and shared the matter with Arjun. Arjun said that they had 15 minutes in hand and reached the bus stop to stop Ajit. They searched for Ajit at the stop. Swaran learned that Ajit's bus has already left.
In the upcoming episode, Swaran and Arjun stop Ajit while he tries to leave. Swaran tells Ajit that she feels for him and wants to stay with him. Ajit gets overwhelmed.
Will Swaran and Ajit get married? Will Bebe accept Rajeshwari's offer?
To know stay tuned to Swaran Ghar on ColorsTV/Voot app and this space.