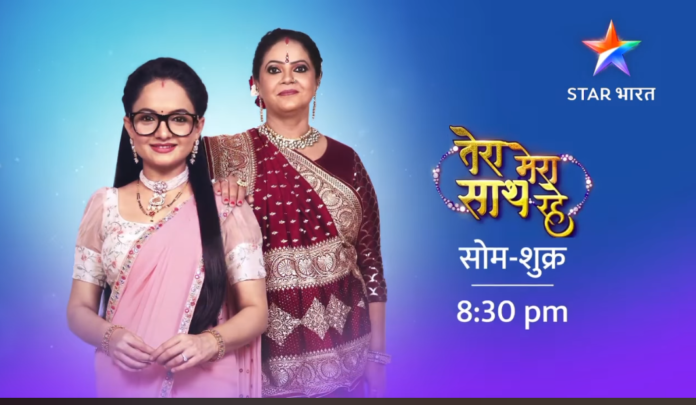 Tera Mera Saath Rahe 18th February 2022 Written Update on SerialGossip.in
The episode starts with Gopika angrily asks Saksham what is the need to do this all why he didnt think some other way. Saksham tells Gopika that to keep their plan safe he acted like that he slept with Priya. Gopika refuses to believe it saying she had seen it. Saksham asks Gopika to listen and tells when he is with Priya inside the room how he told that they can toast a drink for their first night. Priya agrees. Saksham gives her a glass of wine a takes one of his own and they both have it. Priya drinks the wine and gets drunk. She tells that she is so happy.
Saksham makes her get to her side of the bed. The FB ends. Saksham tells Gopika inorder to make Gopika believe he removed his shirt and slept beside her. He then tells that he loves her only the rest of his life. Gopika gets happy and hugs Saksham. She then cries. Saksham asks why she is crying now. Gopika tells that she doubted on his intentions which is not right. Saksham tells that he understands who ever in her situation will react like this and it's normal. He then jokes at how good of an actor and he needs to go to Mumbai to become an actor.
Gopika scolds him. She then tells that now Priya's trust on him has increased so they are now in last step of their plan and they have to do something to take back their property from her. Saksham nods his head. Minal shows the paper to Keshav and tells him that Subhadra is the one who sketched it. She recalled everything and drawn it but thankfully it's her who went to her room or else someone might have seen it. She then asks Keshav what they are going to do. Minal further says that now Subhadra forget whatever the memories she regained and also not aware that she sketched this. Keshav tells that they cant take risk so they need to destroy this sketch and takes the lighter in his hand to put the sketch on fire.
Mithila snatches it from Keshav's hand and sees in that sketch its drawn a man is pointing at a gun to another man. Mithila tells that she is going to ask Subhadra about this. Minal pleads and tells their family will be ruined. Mithila tells that she had enough of hearing this words from Keshav and Minal so she is going to find out what they are hiding by asking Subhadra. Keshav stops her and tells everything to Mithila. Mithila gets shocked and tells that she can't believe they had done such thing. She also tells why they didnt told her. Minal tells that she went somewhere else and by the time she returned it was too late.
The next day Priya while walking on the corridor tells that finally Saksham accepted her as his wife. She also tells that she cant able to remember anything because she was too drunk but she wishes that she wasn't drunk. She further tells that Saksham remembers everything so she dont have to worry. Priya sees Gopika and taunts her. Gopika tells Priya that she is jealous of her because she has done so much for Modi's but in return she got nothing but Priya done so much against the family yet get everything. She further tells her about registering the marriage then tells Priya its not necessary to do because she has everything. Priya starts thinking about it. Saksham comes there and Gopika signs at him. Saksham tells Priya after the night he cant able to stay away from her and asks Priya what is she thinking.
Priya tells Saksham that she wants to register their marriage and become his wife both legally and emotionally. Saksham refuses saying that he has already done it before pointing at Gopika and tells that put him in this situation. Priya refuses and asks Saksham to make her his legal wife. Saksham acts like giving in and they both walk away from Gopika. Priya turns around and wink at Gopika the same time Saksham showss thumbs up to Gopika then leaves. Ramila goes to Hiten's room when he is talking to Kiara. She tells him that she knows he is talking to someone name Kiara.
Hiten gets shocked and lies but Ramila smiles and asks him not to hide her anything. She also tells that he get married to Tejal because of her only and he is going g through a lot to rectify her mistake she is approving his marriage with Kiara. Hiten tells that he is already married also he dont want to betray Tejal. Ramila manipulates Hiten saying that at any point of life Tejal will leave his life so asks to think and take a decision. Hiten tells Ramila that they have to meet Kiara first. Ramila asks Hiten to arrange a meeting with her.
In the living room of Modi house eveyone sits. Minal shares her worries with Keshav that Mithila looks serious and she is afraid when someone asks her why she looks like this she may tell them the truth. Keshav assures her nothing such will happen. Saksham asks Priya where she is taking him to which Priya tells that they are going for a shopping to look best while they register their marriage. Saksham asks her to shop for him saying he need to talk to the lawyer about the registration of their marriage. Priya happily agrees and leaves the place.
Gopika comes there and asks Priya to buy her something too. Mithila loses her cool and asks Gopika what is she thinking. Why she changed this much. Why she is always talking about money money when she is loved by everyone in the family. She also tells that she is sick of her change in behavior. Gopika thinks they are at the last step of their plan so she has to act. She mocks at Mithila and tells whatever she get from them is only betrayal nothing else. Minal scolds Gopika for being an ungrateful person. Gopika tells whatever Mithila has done is for her own benefit not for her. She also calls the family members as betrayer's. Mithila shouts at Gopika and raises her hand but Saksham stops her shocking everyone.
Keshav scolds Saksham. Mithila asks Saksham to look her in her eyes and answer her questions. She asks Saksham why he is not meeting her eyes when she asks him any questions. She also asks him to tell her is he truly want to give Priya the place which Gopika had. Saksham looks away. Mithila tells Gopika that she wants money right which she will get saying the property is on her name which she can take and leave lt. Chirag thinks to himself that Saksham and Gopika should tell the truth whereas Ashi thinks that they shouldn't. Mithila takes both Saksham and Gopika's hand and asks them to swear on God whatever happening is what they truly wants. Both Saksham and Gopika looks at each other worriedly.
Precap: Gopika tells the family members that Priya betrayed them and took fifty one percent of property. She and Saksham planned to give Priya her own medicine. Mithila tells that they both are not alone now because the family is with them. They all join hands together and smiles.
Click to read