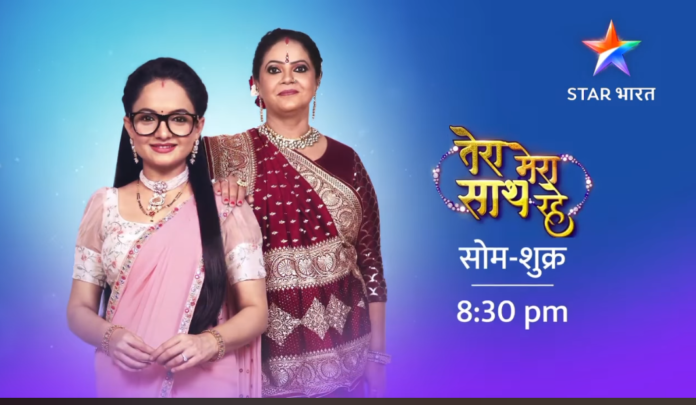 Tera Mera Saath Rahe 23rd May 2022 Written Update on SerialGossip.in
The episode starts with Kesari sings a puja song. The family members gets shocked. Saksham thinks is that mean Kesari isn't mute. Mithila goes to Saksham and asks him that he told she can't able to speak but here she is singing. Munna acts and tells it's all God's miracle. He acts weird chanting it's a miracle of God. Gopika asks Munna is he crazy or something. Why he is acting weird and talking nonsense like this. Is he going to believe such things. Chirag and Saksham says that they agrees with Munna.
Chirag asks Saksham that he do remember right what Kesari's father told him. Saksham looks confused. Chirag tells even in his childhood that he went to school he will not talk to anyone in the school but when he comes home he will talk to Minal because he is suffered by selective mutism. Minal says she remembers. Saksham tells the family that Kesari's father told him this but he forget to tell them about this.
Mithila and Gopika doesn't looks convinced but Minal tells that they should feel grateful because Kesari started accepting this house as their own. Keshav agrees and tells everyone that now Kesari needs to take rest so he is taking her to her room and takes her with him. Saksham asks Kesari why she acted mute when they asked her is she can able to speak or not. Kesari tells the timer in her watch isn't over that time. They all gets confused.
The mysterious women hears the conversation through the earphone put on Kesari's ear. Kesari explains doctor told her not to speak for a time being so she put a timer on her watch once the timer was over she start to speak again. Saksham says that now she can able to speak right so asks her to tell her mother's name. Kesari tells her mother's name is Mummy. Saksham and gang gets upset with her answer. Mithila asks Gopika whether she believe Saksham and his gangs words about Kesari.
Gopika tells that she dont believe their words and they have to find the truth about Kesari at any cost but not by directly asking them because if they ask them directly they will lie to them as they hiding something from them. Mithila agrees and they both decides to find the truth at any cost.
Chirag tells his gang there is no use asking Kesari about her mother's name. They can ask her her father's name. They all agrees. Chirag asks Kesari about her father's name to which Kesari says its Chirag Modi shocking them. They all starts scolding Chirag but Chirag tells that Kesari is lying and Kesari also says yes she is lying. Saksham asks Kesari about her father's name and she tells its Saksham Modi which once again creates an argument between the men. Kesari takes Keshav and Munna's name too.
Saksham tells his gang there is no use asking Kesari about her parents name because she wont tell them anything so they have only option that they have to once again have a conversation with their exes. They all agrees. Saksham and gang asks Kesari to not to tell anyone about this to which Kesari demands money from them. They all obliges and gives it to her the money. Kesari gets happy. Ramila who acts as Tejal talks to her friend over the call. Tejal as Ramila comes there and asks her to clean the room.
Tejal (Ramila) asks Ramila ( Tejal) to show her how to clean as she never done this before. Tejal as Ramila shows her how to use it and asks her to clean it. Ramila as Tejal says that she have cleaned so there is no dust left in it for her to clean it. Tejal as Ramila realises the blunder and gets upset. Ramila happily thinks to herself this is what Tejal done to her whenever she asked her to do any work but now it's her turn which she is going to use it on her favor for sure and made sure Tejal understands her sufferings.
In Modi house Munna worries about his ex's reaction but decides to call her any how. His ex starts cursing him the moment she answers the call. Munna acts and tells his ex he is not his happy with Rajjo. He also asks his ex what happened between them when they stuck in a place due to rain. His ex complaints how he didn't let her touch him which makes Munna happy. Rajjo comes there and questions Munna and the latter distracts by talking about dance and hugs her.
Chirag in his room decides to call his ex. He calls her and asks her about her well being then talks about the conference held by the company and he was drunk that night so asks what happened between them. His ex tells him that her husband arrived there so nothing such happened between them which makes him happy. Ashi comes there and questions Chirag. Chirag lies to Ashi that his friends wife cheated on him. Ashi tells that she will never cheat him and hugs him. Saksham in his room is in a call with one of his friend. Gopika comes there and asks who it is. Saksham tells its Rakesh. Gopika asks he is Kesari's father right. Saksham says yes and continues the conversation with his friend. Gopika thinks that she has to find the truth at any cost for that she has to do something and leaves the place. Saksham realises that he told Gopika Rakesh is Kesari's father but decides to ignore it. He turns around and gets shocked seeing Gopika. Gopika switches off the light and gets closer to Saksham. Saksham recalls Kesari's face so he creates a distance and makes an excuse then leaves the room. Gopika calls Rakesh and tells him that his daughter Kesari is with them safely. Rakesh tells Gopika he is not married yet. Gopika recalls everything and tells herself if it's a lie then everything that Saksham told related to Kesari is lie and she has to find the truth and wonders how to find. Gopika recalls the letter so she starts searching for it. Saksham comes there and asks Gopika what is she searching.
Gopika says that she learns Kesari isn't Rakesh's daughter so she is searching for the letter which is having a truth about Kesari and starts searching everywhere. Saksham recalls putting the letter below the pillow so he goes to take it from there but gets shocked seeing it's not there. Gopika and Saksham fails to notice the letter which is near the door. Gopika goes to Mithila and other women and tells them what happened. Saksham tells his gang that Gopika get to know about their lie and thanks them for saving him by changing the letter in other place. They all says they have not done anything such which shocks Saksham. They all gets worried. Gopika tells the other women in the family they have to find the letter at any cost and looks on with determination.
Precap: Mithila tells everyone that they have to find the letter at any cost. Both men and women starts searching the letter. Later they all sits together to have food. The letter falls on the table. Mithila reads the letter infront of everyone. Gopika Ashi Rajjo and Minal makes their husband's to swear on them whether Kesari is their daughter or not.
Click to read